Old Dhaka gets its own cultural venue at long last
Zahir Raihan Sanskritk Kendra inaugurated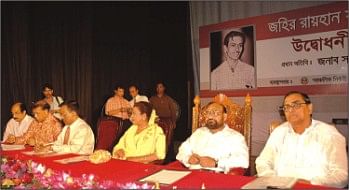 At long last a venue in Old Dhaka where cultural programmes can be held, has opened. Zahir Raihan Sanskritik Kendra, the new four-storey cultural centre at Loharpul, Sutrapur built by the Dhaka City Corporation (DCC), was inaugurated on March 22. Mayor of DCC, Sadeq Hossain Khoka, inaugurated the centre. Political and cultural leaders of the country attended the inaugural programme.
Executive Officer of Zone 1, DCC, Sheikh Mujibur Rahman delivered the welcome speech. Mayor Sadeq Hossain Khoka was the chief guest at the programme. President of Bangladesh Workers Party (BWP) Rashed Khan Menon; Politburo Member of BWP Haider Akbar Khan Rono; General Secretary of Shamyabadi Dal, Dilip Barua; Zahir Raihan's widow Kohinur Akhtar Shuchonda; Secretary General of Group Theatre Federation Jhuna Chowdhury and Chief Engineer of DCC Colonel Ashfaqul Islam were the other discussants at the programme. The discussion was presided over by M Alauddin, Chief Executive Officer of DCC.
Discussants at the programme highly appreciated DCC, in particular the Mayor, for taking such initiative. They hoped that the newly built Zahir Raihan Sanskritik Kendra would boost the cultural activities in Old Dhaka that has long been overlooked.
The speakers thanked DCC for naming the centre after the eminent filmmaker-litterateur Zahir Raihan -- who went missing just after the Liberation War -- and urged for research on him.
The discussion was followed by a cultural programme. Artistes of DCC-operated cultural schools, employees of the organisation and leading cultural troupes such as Nrityadhara, Akriti Academy and Dhrubotan performed dance and music at the programme.
The event began with a chorus rendition by the employees of DCC. After the chorus, Shiuli Biswas rendered popular Adhunik Gaan.
Students of DCC-operated schools presented two dance compositions with folk songs Shadher lau and Bansher jhare. Reeta Bhaduri presented a Hason Rajar Gaan titled Nesha lagilo re and employee of DCC, Khagendra Sarkar presented a Lalon Geeti Korimana kam chhare na.
Artistes of Dhrubotan presented two Tagore songs – Shonkochero bihbolota and Ogo dokhin haowa.
Directed by Kochi Rahman, artistes of Akriti presented two dance compositions. A Kathak based dance piece was performed with the song Aha Chandrabeni ke jay. The other dance piece was presented with the song Tahe chhilo mon-e.
Artistes of Nrityadhara were the last to perform at the programme. They presented five dance compositions. The first performance directed by Deepa Khondokar was presented with a Tagore song Aji Bangladesher hridoy hote. The artistes also presented a Manipuri dance piece directed by Tamanna Rahman, a folk dance directed by Minu Haque and a Kathak dance piece directed by Munmun Ahmed. The event wrapped up with presentation of another folk dance composition directed by Deepa Khondokar.
A nine-day theatre festival jointly organised by DCC and Bangladesh Group Theatre Federation began yesterday at Zahir Raihan Sanskritk Kendra.