<i>Election funds</i>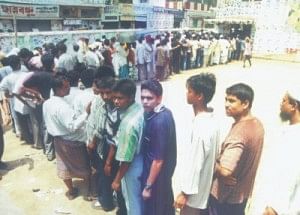 I vehemently oppose the proposal put forward by the Awami League recently on the issue of the government funding the political parties which secured at least 10% of the votes in the last parliamentary election for conducting the forthcoming national election. The political parties should conduct election with their own funds and the candidate should bear the expenses required for the purpose. The state's money is meant for meeting the expenses required by the state and the people. It has many other priority areas such as poverty alleviation, creation of jobs for the ultra poor, disaster mitigation, undertaking emergency programmes etc. The nation's other requirement is to address the issues such as food shortage, fertiliser crisis, electricity, gas, agricultural and human development and so on. Therefore, this request should not in any circumstances be taken into consideration.
The Awami League and other political parties also requested the government to increase the ceiling of election expenditure from Tk.500,000 to Tk. 1,500,000.This request is also unreasonable and unpractical in the context of ethics and transparency. Rather, the government should reduce the previous ceiling of Tk.500,000 to Tk.350, 000 in order to avoid misuse of money to influence voters during the election. Election expenditure should be minimum and practical.
The responsibility of a leader is to present himself or herself to the people of his or her area as a candidate for national election with required efficiency and capacity to lead. And it is the responsibility of the people to choose their leader through a free and fair election without any monetary influence.