Weeklong jatra festival at Shilpakala
"Ganga Theke Buriganga": Legacy of independence through jatrapala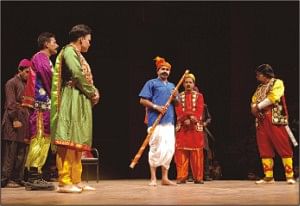 Set against the backdrop of the battle between Shamsuddin Elias Shah, the ruler of Bengal and Firoz Shah Tughlak, the Emperor of Delhi; Shanti Ranjan Dey's historical jatrapala, Ganga Theke Buriganga depicts the legacy of struggles for independence by the people of this land.
Ganga Theke Buriganga, a Loko Natyagoshthi production, was staged at the Experimental Theatre Stage on March 19, as part of the ongoing jatrapala festival arranged by the Department of Theatre and Film, Bangladesh Shilpakala Academy.
Through the story of the Delhi Emperor's defeat at the hands of the brave patriotic ruler of Bengal, which took place some 650 years back, Ganga Theke Buriganga depicts the Bengalis' urge for sovereignty. Moreover, the pala addresses the issue of imperialism in a contemporary manner. The pala features the approach of an imperial ruler towards the people of a smaller country.
The method of presentation in this pala may appear "exaggerated" to the urban viewers in terms of acting, however, it is quite interesting. The essence of traditional jatrapala remains in the actors' delivery in rhythmic high pitched voice, 'exaggerated' expressions and movements, very bright costumes and the acoustics of cornet, clarinet, mandira and dhol. When all the aspects of the performance synchronise smoothly, the presentation appeals even to the viewers who look for proportion in art.
The artistes of Loko Natyagoshthi, in particular Babu Mukharjee as Firoz Shah Tughalak and Milon Kanti Dey as Tatar Khan performed boldly on the stage.
Ganga Theke Buriganga is directed by Milon Kanti Dey. The director presented every segment of the traditional jatrapala such as the dance by the princes, comic relief and the appearance of 'bibek' (conscience) in an effective manner in the pala.