Heart-to-heart
Shaju Khadem and Proitee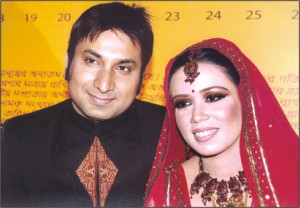 Proitee Haque -- daughter of noted TV and theatre personalities Dr. Enamul Haque and Lucky Enam -- and actor-art director Shaju Khadem tied the knot on March 3 this year. In a recent interview with The Daily Star (TDS), the newly married talked about their marriage, how their relationship blossomed, their likes and dislikes. Excerpts from the conversation:
TDS: How does it feel being married?

Shaju: It is definitely a special feeling. But honestly speaking, since I have known her for so long, life does not seem to have changed drastically. Rather what feels weird is having moved into our new apartment.
Proitee: For me, it is like moving from one home to another. But yes, both of us are taking some time to get used to a new home.
TDS: According to some, marriage equals imprisonment; that is, losing freedom. What's your take on it?
Shaju: Actually, it depends on your perspective. If you love someone a lot, there is no "obligation". If you care about someone, you would want to do anything to make that person happy. It is about the understanding between two people.
Proitee: I absolutely feel no such obligation. Like he said, it is about how well you understand each other. In love, compromises are made out of respect, not obligations.
TDS: How did you two meet?
Shaju: We have known each other for about 8-10 years. We were in the same theatre group so we used to hang out together a lot, but it wasn't love at first sight. Liking her and later falling for her, all happened gradually.
Proitee: A lot of times, when Hridi apu (my elder sister) and her husband (Litu Anam) went out we used to go along with them. It was funny how our friends thought we were dating, long before we developed feelings for each other.
TDS: How did your parents take it? Were they supportive?
Shaju: We are lucky that our families consented to our relationship and we have their blessings.
TDS: What was the first thing about him/ her that caught your attention?
Shaju: Like I said before, I did not know when I first met her that we would be in love. But when I got to know her gradually, I was smitten by her refreshing naiveté.
TDS: What do you like most about him/ her?
Shaju: Proitee is an extremely caring person. She is not too complicated and that is what I love about her most.
Proitee: The best thing about Shaju is his dedication towards work. He is a very simple person and a caring partner.
TDS: And, bad qualities?
Proitee: He is on the phone frequently, and that sometimes annoys me.
TDS: What are your common interests?
Shaju: We like discussing different aspects of our work. Proitee is critical about my work, which serves as a motivation for me to work harder.
TDS: An interesting incident from your pre-marital life?
Shaju: Before we got married, I used to call her mother (Lucky Enam) "Apa" and I still cannot get over that. My friends and family often make fun of this.
TDS: Given the opportunity, would you two like to work together, say in a TV play or movie?
Proitee: Actually, I am not that keen on working on television. I have had offers previously, but never felt the urge. But, maybe if it is a good script, I would like to work with him.
TDS: Define "marriage" in one sentence?
Shaju: I believe marriage is a social institution. Even if we did not get married, my love for Proitee would not become less. It is an extended bonding of the relationship of our hearts.
Proitee: For me, marriage is the union of not only two people, but also their families. With marriage comes several responsibilities and it helps two individuals develop their relationship and come even closer.