<i>Hill people fear food crisis as bamboo clusters flowering</i>
Locals in Khagrachhari say the 'ominous sign' will cause massive rat invasion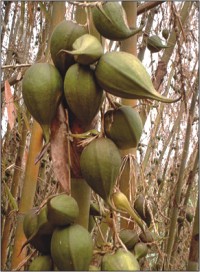 Bamboo clusters in Khagrachhari are flowering and fruiting in a massive scale, giving an ominous sign of food crisis in the hills.
Elders said flowering and fruiting of bamboo takes place at an interval of 40 to 50 years. The fruits draw rats in a massive scale, which also eat up rice and other food crops. Locals call it idur banya (invasion by rats), which also cause other calamities.
After fruiting, the bamboos wither away.
Once it appears, the menace normally persists for three years, the elders said.
Bamboo clusters in about 45 villages in eight upazilas have been affected with the natural phenomenon, according to forest officials and locals.
Of these, 15 villages are in Dighinala, 10 in Laxmichhari, 5 in Matiranga, 10 in Mohalchhari and five in remote Panchhari upazila.
Two-thirds of bamboos grown in Khagrachhari are in Dighinala, Mohalchhari, Panchhari, Laxmichhari and Matiranga upazilas.
If withering of bamboo forests continues, supplies to Karnaphuli Paper Mill (KPM) may be affected, KPM sources told this correspondent.
This correspondent visited Semina Para, Kalidaskarbari Para, Kongchairi Para and Panchhari in Dudukchhari; and Kestamoni Para, Durgamoni Para, Haduk Para and Headman Para, Juniara, Alutilla, Gugrachhari, Buyachhari, Bichitala, Doilla, Shantipur and Datkuppa villages in other upazilas where bamboos are dying after flowering and fruiting.
Chailaprue Marma, chairman of Golabari Union Parishad (UP), said he will send a letter to higher authorities seeking food assistance for people and steps to protect bamboo forests.
Kamalchhari UP chairman Sa-U-Prue Marma said bamboo is the main source of livelihood for most indigenous people in remote hills. About 7000 families in his union may face food crisis.
Babuchhara UP chairman Paritosh Chakma said many people died in Mizoram of India in 1959 due to food crisis after flowering of bamboos.
An official of KPM seeking anonymity said he heard about flowering of bamboos in Khagrachhari and other remote areas of Rangamati. KPM may face crisis of raw materials of bamboo clusters wither away.
Divisional Forest Officer (DFO) Mohammad Ali Kabir said this is a natural phenomenon. A proposal has been given to the forest department to take immediate steps to preserve the dying bamboo clusters, he said.
Biddya Binod Chakma, a Karbari (village chiefs) from remote Maidda Karallachhari village in Mohalchhari upazila said people killed a large number of rats in the area as they destroy jumm paddy.
Quoting indigenous jhum farmers, sources claimed that around two-thirds of paddy has been eaten up by rats in hilly terrains of Rangamati and Bandarban.
The remote hilly areas are not covered under development programmes of government or NGO, sources said.
Dr. Habibur Rahman, associate professor of Botany at Matiranga Degree College, said bamboo clusters die and disappear whenever they bear flowers and fruits.
This happens at an interval of 25 to 40 years. Such phenomenon occurred in 1943 and in 1980 in CHT, he said.
Deputy director of district Agriculture Extension Department (DAE), TMMonzurul Islam, said upazila agriculture officers will be sent to affected areas to estimate the crop damage.
When contacted, Khagrachhari Hill District Council chairman Monindra Lal Tripura said, "We are thinking to launch a package programme from the district council fund for the affected people".