3 killed in fresh clash
Jamaat-Shibir men go on rampage in dists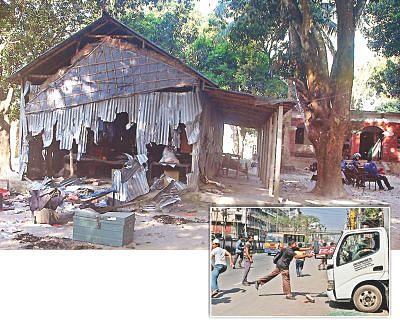 Jamaat-e-Islami and Islami Chhatra Shibir men continued their attack on law enforcers and ruling party men across the country for the second day yesterday resulting in clashes that left three people dead and hundreds injured.
At least 13 policemen and three journalists were among the injured.
Meanwhile, four people, including two policemen, who were wounded in Thursday's violence in Gaibandha, Noakhali and Satkhira, succumbed to their injuries yesterday raising the death toll to 40 in two days.
Jamaat-Shibir men have been on the rampage since Thursday when a tribunal sentenced Jamaat Nayeb-e-Ameer Delawar Hossain Sayedee to death for crimes against humanity committed during the Liberation War.
A few district administrations yesterday imposed a ban on gatherings to avert untoward incidents.
Yesterday, Jamaat-Shibir activists blocked highways, threw brick chips at police, vandalised vehicles and roadside shops, and removed railway sleepers disrupting rail commutation with some districts.
Following Thursday's violence, police in several districts filed cases against large numbers of Jamaat-Shibir activists.
In the capital, at least 10 people were injured when Jamaat-Shibir men clashed with law enforcers at Malibagh.
Witnesses said around 300 activists brought out a procession in Malibagh Chowdhury Para area after Juma prayers and police fired rubber bullets and teargas shells to disperse them.
The Jamaat-Shibir men vandalised around 10 vehicles.
GAIBANDHA
Two people were killed in a clash between activists of ruling Awami League and Jamaat-Shibir men at Dhanesher Bazar in Sunderganj upazila.
The deceased were identified as Awami League adherent Nurunnabi Sapu, 22, and tea stall owner Saju Mia, 30.
Witnesses said the clash erupted around 7:00am when Shibir men chased ruling party activists. Jamaat-Shibir men caught Sapu and beat him to death.
Following his death, Awami League men vandalised Al-Hikma Madrasa and five Jamaat-owned business establishments.
Jamaat-Shibir activists in turn vandalised 25 shops at Dhanesher Bazar.
Saju was admitted to Sunderganj Upazila Health Complex with injuries and he died at 1:00pm.
Meanwhile, two police constables, who were injured in an attack by Jamaat-Shibir men at Sundarganj police camp on Thursday, died yesterday at Rangpur Medical College Hospital.
The deceased were: Hazrat Ali, 40, of Rahamatpur Char village of Pirgachha upazila and Tozammel Haque, 38, of Rajarhat upazila in Kurigram.
CHAPAINAWABGANJ
A man was killed and 10 others, including a local journalist, were injured in a clash between Awami League men and Jamaat activists at Shahbajpur of Shibganj upazila yesterday.
The deceased was identified as Abdur Rahim, 45, who died on the spot. Jamaat claimed that Rahim was their activist.
Witnesses said defying the ban on gatherings, both groups clashed at Pardilalpur village of Shahbajpur around 11:00am.
NOAKHALI
Nur Uddin, 17, of Khaliterhat village in Noakhali died yesterday morning. He had sustained bullet injuries in Rajganj of Begumganj upazila on Thursday during a clash between Jamaat and police.
Meanwhile, a clash erupted between Jamaat-Shibir men, and police and Border Guard Bangladesh personnel when Jamaat-Shibir brought out a procession and blocked three roads with logs and electricity poles around 9:00am. The clash left 15 injured.
Shibir called a half-day hartal in Noakhali today.
CHITTAGONG
Jamaat-Shibir men blocked College Road and hurled brick chips on roadside houses and shops on Siraj-ud-Daulah Road and at Chawkbazar intersection yesterday.
A few thousand Jamaat-Shibir activists, led by Jamaat city unit Ameer Shamsul Islam, MP, brought out a procession at Anderkilla intersection after Juma prayer.
A few homemade bombs were hurled from the procession at policemen near Oli Khan Mosque that left six cops injured.
Jamaat-Shibir men also set fire to three vehicles on Dhaka-Chittagong highway.
RAJSHAHI
In Rajshahi, two journalists were injured while covering a clash between Jamaat-Shibir and law enforcers at Binodpur in the city yesterday afternoon.
The clash ensured around 2:15pm when around 100 Jamaat-Shibir men brought out a procession and hurled homemade bombs at law enforcers. The law enforcers fired around 500 rubber bullets to disperse them.
SATKHIRA
Abdus Salam, 50, of Rajarbagan, Satkhira, was shot Thursday during a clash at Kadamtala Bazar, and he died, police said. At least four people were killed during the violence on Thursday in the district.
OTHER PLACES
In Narsingdi, at least four policemen were injured when Jamaat-Shibir men threw brick chips on them from a procession brought out after Juma prayers.
In Dinajpur, Jamaat-Shibir men blocked Dinajpur-Dhaka highway and in Pabna they vandalised a Rab patrol car at Chandidaspur.
In Narayanganj, at least five people, including a police constable, were injured in separate clashes between police and Jamaat-Shibir men when the latter tried to bring out processions yesterday.
In Jessore, 15 people were injured yesterday in Jamaat-Shibir assaults and homemade bomb attacks.