Terror unleashed
33 killed as Jamaat-Shibir runs riot in at least 15 districts; calls 32-hour hartal from Sunday; BNP hints at going tough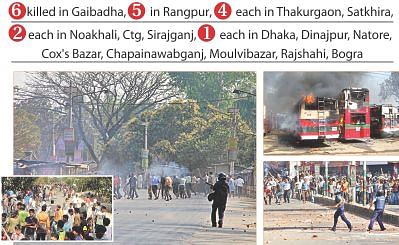 At least 33 people, including four policemen, were killed and scores were injured in a spasm of violence in parts of the country yesterday after Jamaat-Shibir activists clashed with law enforcers to protest against a death penalty to Delawar Hossain Sayedee.
Jamaat-e-Islami and its student wing Islami Chhatra Shibir claimed that 20 of the dead were their members. The violence also left a college teacher and two Jubo League activists dead.
After the verdict, the angry protesters attacked a police outpost in Gaibandha killing three policemen on the spot and knifed to death a constable in Chittagong -- the deadliest day since the first verdict was delivered on January 21.
In scenes that bring to mind the Liberation War rampage in 1971, the attackers set fire to a temple and houses of the Hindu community in Noakhali.
Even before the verdict was delivered, Jamaat-Shibir men were out on the streets to enforce a daylong shutdown to strike fears into the hearts of people, who expressed solidarity with the Shahbagh movement calling for capital punishment to war criminals.
In Dhaka, unknown groups unleashed a reign of terror by exploding a series of bombs in the residential neighbourhoods of Mirpur-1, Kafrul, Mohammadpur, Motijheel, Abdullahpur, Uttara and Khilgaon.
They also clashed with police and damaged many vehicles. The attacks and anarchy left the people in a severe panic.
MIRPUR
A bomb hurled by the attackers exploded on an unidentified man in Mirpur at 8:00pm. He later bled to death.
Jamaat-Shibir men created anarchy by launching serial attacks and blasting bombs and cocktails on the road between Mirpur-1 to Technical intersection. At one stage of the attacks, the elderly man of about 65 years fell on the ground when a bomb hit his head.
Sub-inspector Kamrul Islam of Mirpur police said many cocktails and bombs were thrown at different places.
SUTRAPUR
Police constable Mohammad Masud, 30, was injured when Jamaat-Shibir men swooped on him at Baniyanagar Mosque area around 4:00pm.
MOTIJHEEL
Jamaat-Shibir men clashed with police at Fakirerpool around 7:00pm.
KHILGAON
Activists of Jamaat-Shibir charged several cocktails surrounding the police station to create panic.
ABDULLAHPUR
Jamaat-Shibir men locked in clashes when police barred their procession at 8:00pm.
KAFRUL
The Jamaat-Shibir men damaged several vehicles at Kazipara around 9:00pm and ran away when police chased them.
DHAKA UNIVERSITY
Students of Jagannath Hall remained alert with sticks as rumours of a possible Shibir attack spread on the campus.
BNP TO ANNOUNCE PROGRAMMES
Meanwhile, Leader of the Opposition and BNP Chairperson Khaleda Zia is set to announce her party's programmes in protest against "killing of general people" by law enforcers.
Khaleda held a meeting with her party's top leaders after her return from Singapore last night.
Earlier, BNP acting secretary general Mirza Fakhrul Islam Alamgir in a press statement termed yesterday's incidents the "cruellest mass killing in the history which is worse than the genocide by the Pakistani army during the Liberation War in 1971".
GAIBANDHA
Hundreds of Jamaat-Shibir men put barricades on the roads and attacked a police outpost at Banondanga railway station in Sunderganj.
They attacked policemen with lethal weapons, killing three constables -- Hazarat Ali, Najimuddin and Bablu Mia -- on the spot.
Three injured policemen were admitted to Rangpur Medical College Hospital in critical condition.
Three attackers were shot dead as the police retaliated with gunshots. Of them, one was identified as Anej, 35, a vegetable vendor.
Three men were bullet-hit and receiving treatment at Sundeganj Health Complex.
The attackers also set fire to Banondanga rail station, uprooted rail tracks and put barricades on roads besides vandalising several shops.
THAKURGAON
Four were killed in the rampage inflicted by Jamaat-Shibir men.
About 1,500 Jamaat-Shibir men marched in a procession at Goreya Bazar in Sadar upazila and attacked 10-15 shops and 10-12 houses of Awami League men and the Hindus.
Police and Border Guard Bangladesh (BGB) fired blank shots and tear shells to disperse the attackers, who then turned to the law enforcers.
The police and BGB opened fire to save themselves, leaving one Firoz, 24, dead and injuring about 10 others.
Rubel, a 13-year-old Shibir supporter, was found shot dead inside a shop later.
Munir Uddin, 20, and Nironjon, 25, of Goreya village succumbed to their injuries at Thakurgaon Sadar Hospital, said police.
RANGPUR
Five were killed and 100 including 22 law enforcers hurt in clashes between Jamaat-Shibir men and police in Mithapukur and Pirgachha upazilas.
The dead were Shibir activists Moshiur Rahman, 25, Shahed Mian, 45, an unidentified person, Mahmudul Hasan, 20, and Ashikur Rahman, 23.
Jamaat-Shibir activists barricaded a road and attacked police when the latter asked them to leave at Mithapukur Bazar around 2:45pm.
Besides charging baton, the police opened fire to disperse the protesters, leaving 65 others hurt.
In Peergachha, 41 people, including 21 policemen, were injured in a similar clash near the railway station. Of them, a sub-inspector and five Jamaat-Shibir men were bullet-hit.
SATKHIRA
Police and BGB intercepted a Jamaat procession trying to enter Satkhira town and came under attack. The law enforcers fired rubber bullets and charged baton.
At one stage, Jamaat activists Tuhin and Saiful and Jubo League worker Shahin died receiving bullets and around 100, including two BGB personnel, were injured.
The Jamaat men also attacked Mamun, a newly appointed teacher of Satkhira City College, and set fire to his house. Mamun died at Satkhira Sadar Hospital.
CHITTAGONG
Unruly Jamaat-Shibir men brought out a procession in Lohagara upazila and the police tried to intercept it. Attacked, the law enforcers opened fire, leaving Shibir man Mesbah Uddin, 26, dead.
Reinforced, the Jamaat-Shibir men again attacked the police and hacked constable M Tareque Hossain to death.
NATORE
Around 200 Jamaat-Shibir men swooped on the house of a Jubo League leader in Kadamchilan under Lalpur upazila and chopped him to death.
Matiyar Rahman, OC of Lalpur police, identified the victim as Khairul Bashar, 27, joint secretary of Kadamchilan Union Parishad unit.
The Jamaat-Shibir men also torched a police-van, injuring five cops.
DINAJPUR
Nearly 5,000 Jamaat-Shibir activists set fire to four roadside shops at Ranirbandar under Chirirbandar upazila.
Police and BGB tried to disperse the attackers and came under attacks.
The BGB men opened fire, leaving fruit trader Foiz Uddin, 25, of Nasratpur village dead and injuring two.
In another clash at Doshmile in Sadar upazila, 30 were injured when Jamaat-Shibir men clashed with law enforcers.
CHAPAINAWABGANJ
The Jamaat-Shibir men vandalised vehicles at Shibtala in the town.
Police backed by anti-hartal activists tried to resist them, but the attackers swooped on them with sticks, brick chips and hand-made bombs.
The police opened fire on the attackers, leaving Nasir Uddin, 23, student of Nawabganj Alia Madrasa, dead and two others wounded.
MOULVIBAZAR
Jamaat-Shibir men went on the rampage at Borolekha Bazar and police tried to disperse them, triggering a clash around 5:30pm.
One Lokman Hossain, 22, was shot dead during the clash.
COX'S BAZAR
A madrasa student was killed in a gunfight between Shibir and police in Pekua upazila.
The clash erupted around 3:00pm when Jamaat activists opened fire on the law enforcers to protest against the verdict.
SIRAJGANJ
Jamaat-Shibir men vandalised a van of Rab patrol team at Chandidaspur in Sadar upazila at 12:30pm.
Police lobbed teargas canisters to disperse the attackers, who retaliated with sticks and brick chips.
Mokhter Hossain, 19, a Shibir activist, was gunned down during the class. Eleven were also injured. Of them, Ruhul Amin, 18, of Chandidaspur died at Sirajganj Sadar Hospital.
Jamaat called a half-day shutdown in the district to protest against the death.
NOAKHALI
Jamaat-Shibir activists clashed with law enforcers when the latter tried to dissuade them from vandalism in different parts of the district.
Liton, 28, a fish trader, died on the spot and Md Khokon, 17, a tempo employee, died at Noakhali Medical College Hospital.
RAJSHAHI
A Shibir activist was killed in a clash between Jamaat-Shibir and law enforcers in Bagha upazila.
The deceased was identified as Amirul Islam.
Around 500 Jamaat-Shibir men attacked law enforcers at Binodpur Bazar, leaving two policemen including Assistant Commissioner of Rajshahi Metropolitan Police Abul Hasnat injured.
At least 50 cocktails were exploded during the attack.
The law enforcers fired hundreds of gunshots and teargas canisters to bring the situation under control.
At 8:30pm, a bomb blast in front of Rajshahi city AL office injured 11 party men.
BOGRA
A Shibir activist was killed in a clash between protesters and police at Sujabad under Shajahanpur upazila.
The dead was identified as Based Ali, 40, son of Monu Mia of Sujabad Dohopara village.
Strings of violence by Jamaat-Shibir men were reported from elsewhere in the country. But no-one was reported to have been killed in those incidents as of 2:00am today.