Attacks, rampage in major cities
Gonojagoron manchas vandalised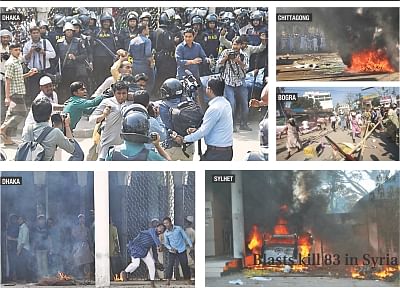 Jamaat-e-Islami and its likeminded Islamist organisations yesterday unleashed violence in major cities of the country in a show of force countering the countrywide movement against war criminals.
In Chittagong, a few thousand supporters of radical Islamist organisations vandalised structures and the Gonojagoron Mancha site in front of the press club on Jamal Khan Road.
A group of fanatics entered the press club building and smashed windowpanes and assaulted several journalists.
In the face of resistance from law enforcers, the supporters charged towards police. At least four policemen were injured, one with bullet, in the clash.
The injured -- Inspector Pravash Chandra Dhar of Khulshi Police Station, Sub-Inspector Md Kamruzzaman of Kotwali Police Station, its Assistant Sub-Inspector Mafizur Rahman and constable Mohammad Jahangir of Armed Police Battalion – were admitted to Chittagong Medical College Hospital (CMCH).
Constable Jahangir received a bullet in the right leg, said Additional Commissioner Banaj Kumar Majumder of Chittagong Metropolitan Police (CMP).
He said 25 people had been detained in the port city in connection with the rampage.
Around 2:00pm, activists of Hefazat-e-Islam assaulted five photojournalists and TV camerapersons at Anderkillah intersection when the party supporters brought out a procession from Anderkillah Shahi Jam-e Mosque.
Photojournalist of daily Inqilab, Ahmed Kutub, was critically injured in the attack and was admitted to CMCH.
Eyewitnesses and police said activists of Hefazat-e-Islam had started chanting slogans against "atheists" inside Anderkillah mosque after the Juma prayers and brought out a procession.
Shibli, who offered his prayers at the mosque, said the activists had started chanting slogans even before the munazaat (supplication) was over.
A few thousand activists of the Islamist organisations including Jamaat, Islami Chhatra Shibir, Hefazat-e-Islam, Islami Oikya Jote, and Nabi Premik Jagrata Janata, gathered at Anderkillah intersection in processions.
Around 3:00pm, they brought out a procession and headed towards Jamiyatul Falah Jatiya Mosque at Wasa intersection. On their way, the activists hurled stones at the bureau offices of newspapers Amader Shomoy, Kaler Kantho, The Daily Sun, banglanews24.com and TV channel Bangla Vision.
A large group from the procession entered Jamal Khan Road breaking through police resistance.
People in the procession smashed windowpanes of several buildings on the road.
Reaching Gonojagoron Mancha, the activists vandalised structures bearing slogans against war criminals and tore down banners and festoons and set fire to those. They also tried to pull down the portrait of Shaheed Janani Jahanara Imam after getting inside the press club.
They chanted slogans against the Shahbagh movement activists terming them infidels.
After the rampage, the activists again gathered at Jamiyatul Falah mosque and held a rally at Wasa intersection around 3:30pm. At the rally, Mufti Izharul Islam Chowdhury, president of Nizami Islam Party, demanded capital punishment to bloggers who organised the Shahbagh movement.
He called Law Minister Shafique Ahmed, Information Minister Hasanul Haque Inu and Education Minister Nurul Islam Nahid "atheists" and leftist, and demanded their resignation.
Izharul called for a grand rally at Hathazari Parboti High School on Monday.
While returning from the rally around 4:00pm, Jamaat-Shibir activists tried to go on Jamal Khan Road again but they faced resistance from Bangladesh Chhatra League activists and locals.
A clash erupted.
Police lobbed several teargas canisters to bring the situation under control.
Meanwhile, agitated locals in retaliation set fire to shops inside the Mahanagar Jamaat office premises at Dewanbazar around 9:20pm. Jamaat leaders claimed that the locals had also set their office ablaze.
RAJSHAHI
Jamaat-Shibir activists clashed with police at different points in the city yesterday afternoon, leaving around 50 people, including 10 policemen, injured.
During sporadic clashes, the activists hurled brick chips and blasted handmade bombs while police fired several hundred rubber bullets, teargas shells and sound grenades to disperse them.
Jamaat-Shibir men ransacked the Ekattor Mancha at Alupotty during a half-an-hour-long clash between them and law enforcers in the afternoon.
After Juma prayers, Jamaat-Shibir men brought out a procession under the banner of Hefajat-e-Islam and went towards Zero Point, said Commissioner SM Moniruzzaman of Rajshahi Metropolitan Police (RMP).
They later split into groups and marched towards Alupotty and ransacked loud speakers, chairs, tables, banners and posters of the Ekattor Mancha.
The activists also hurled brick chips at the passing vehicle of Rajshahi Mayor AHM Khairuzzaman Liton. He escaped but his car was damaged.
Police intercepted the procession at Kumarpara when the activists started throwing brick chips at the city unit Awami League office.
The Jamaat-Shibir men blasted several bombs and hurled brick chips at the law enforcers and police fired several hundred rubber bullets, teargas shells and sound grenades to disperse them.
Jamaat-Shibir men also damaged glasses of several roadside offices including Uttara Bank, Dhaka Bank and IFIC Bank and some 12 other shops.
Some 10 policemen, including RMP DC Golam Mahmud, OC Alamgir Hossain, constables Sabuj and Ruhul Amin, and Bazlur Rahman, a youth, were injured during the clashes.
Police arrested some 26 people, reports our Rajshahi correspondent.
Around 30 Jamaat-Shibir activists were wounded, party sources claimed.
SYLHET
A student of Sylhet MC College was killed and 50 others were injured during sporadic clashes between law enforcers and activists of different Islamist organisations in the city yesterday.
The deceased was identified as Mostafa Morshed Tahmid, 18. Mostafa, a first-year student of HSC, was not involved in any political party, family sources said.
After Juma prayers, students of different madrasas and imams from different mosques brought out a procession in the city under the banner of Olama Mashayekh Parishad and other Islamist organisations, witnesses said.
When the procession reached Chouhatta area around 2:55pm, the activists stormed the Shaheed Minar and tore down its gate and walls.
They also vandalised the windowpanes of an adjacent Trust Bank office and torched a pick-up truck, two motorbikes and a human haulier of police parked near the bank.
When they resorted to vandalism in front of the Krishi Bank building, police fired rubber bullets to disperse them, witnesses added.
Some 426 shotgun shells, 40 rubber bullets, 28 teargas shells and 18 sound grenades were used to bring the situation under control, said Deputy Commissioner Rezaul Karim of Sylhet Metropolitan Police.
Over 50 people and around 35 policemen were injured during the clashes. At least 35 people were arrested.
Around 4:00pm, several activists of Bangladesh Chhatra League brought out a procession at Zindabazar protesting the vandalism at the Shaheed Minar. They ransacked Al Hamra Shopping Complex.
Some on-duty journalists were assaulted then. The activists of the pro-Awami League student body also set fire to five motorbikes of newsmen.
They also vandalised an ATM booth of Islami Bank at Taltola, hurled brick chips at Sylhet Women's Medical College at Mirbokshtola, and damaged windows of Ibne Sina Hospital.
KHULNA
Sporadic clashes between law enforcers and Jamaat-Shibir men in different parts of Khulna city left around 25 people injured yesterday.
Witnesses said the clashes began when Jamaat and its likeminded parties brought out a procession from Dackbanglow area and was obstructed by police near Sangeeta Cinema.
The activists pelted police with brick chips and exploded several homemade bombs forcing law enforcers to retaliate with rubber bullets and teargas.
A group also set fire to the ward-19 Awami League office.