Transparent mobile by this year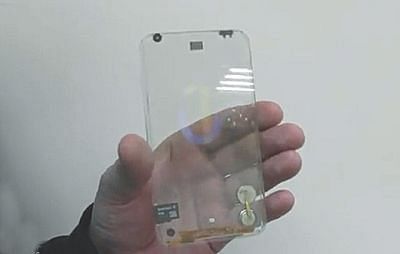 Taiwan-based Polytron Technologies may have the next leap forward in cell phones, promising a transparent mobile by the end of 2013.
The company has already begun marketing a transparent multi-touch.
The company's prototype uses what they call Switchable Glass technology. That's a conductive OLED using liquid crystal molecules to display images.
When the phone is off the molecules align to form a milky composition, but when switched on they realign to form text, icons, and other images.
Electric current is carried through transparent wires. "It will happen near the end of 2013. Trust me," said Polytron general manager Sam Yu.
The device still has some parts that are not transparent, including a SD card and SIM card.
The microphone, camera, and batteries are also visible, and will be hidden behind a dark glass cover when the model goes into production.
Yu said the company will develop a smaller lithium ion battery that would be much less noticeable. When complete, the phone will have a dual-sided multi-touch display in front and back.
The prototype has yet to feature any software or operating system. Polyton's model will offer much more room to work in hardware.
Also at question is whether transparency by itself will attract buyers, as the prototype doesn't offer significantly different functions than most smartphones.
Yu isn't worried. He even plans to announce a prototype transparent tablet within the next couple weeks.