<i>Brave blogger, goodbye </i>
Rajib laid to rest; JS asks for stern punishment to killers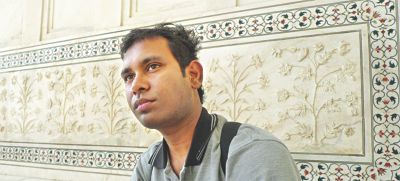 Braving inclement weather and facebook propaganda not to attend namaj-e-janaza of blogger Ahmed Rajib Haider, thousands of people yesterday paid their last tribute to him at Gazipur where he was laid to eternal rest.
As the body of Rajib, an activist of the Shahbagh movement, reached his home around 9:30am, the air in Kapasia filled with grief.
Relatives and several thousand locals, already gathered at Rajib's house near Kapashia Bus Stand, broke down in tears.
The shock turned into strength and they vowed to thwart the ill-activities of war criminals and fundamental forces.
"My son [Rajib] lost his life due to an international conspiracy as he [Rajib] wrote against the war criminals and fundamentalist," Rajib's father Md Nazim Uddin said.
Criminals hacked Ahmed Rajib Haider, a blogger and activists of Shahbagh movement, dead on the road near his house at Palash Nagar in the capital's Pallabi Friday night.
The murder case filed with Pallabi Police Station on Saturday was transferred to the Detective Branch (DB) of police, said Masudur Rahman, deputy commissioner (media) of DMP, yesterday.
Police so far detained eight people for interrogation in connection with the murder but did not divulge their identity.
Speaker Abdul Hamid yesterday urged the government to arrest the killers of Rajib and ensure exemplary punishment to those found guilty.
"On behalf of the parliament, I strongly condemn the brutal killing and express condolence to the bereaved family," he said in response to Awami League lawmaker Tofail Ahmed's proposal to adopt a condolence motion.
Taking the floor, Tofail proposed to stand in silence for a minute. Supporting the cause, a number of lawmakers of the ruling Awami League-led alliance also sought floor to speak on the issue.
In response to Tofail's call, the speaker said he understood the sentiment of the House. "But, I need to maintain procedure to run the House. There is no scope to observe one minute's silence now," he added.
The third namaj-e-janaza of Rajib was held in Kapasia Pilot High School premises after Zohr prayers in presence of thousands of grief-stricken people.
His last namaj-e-janaza was held at his native village Shrashpur, and around 5:15pm, he was laid to rest at his family graveyard.
Rajib's first namaj-e-janaza was held at Shahbagh popularly known as "Projonmo Chottor" while his second janaza was held at Palash Nagar in Pallabi on Saturday.
To mourn his death, Kapasia Awami League on Saturday declared a two-day programme, including wearing black badges, hoisting black flags at all business establishments and homes in the upazila.
The national flag was hoisted at all schools and madrasas in the upazila yesterday morning and students sang the national anthem expressing solidarity with the Shahbagh protesters.
A monument designed by Rajib, who was an architect, would be constructed on the upazila's Muktijoddha Chottor soon as the ministry concerned has already approved the design, said Mohammad Shahidullah, president of the upazila Awami League unit.
In a statement, bloggers of Chittagong yesterday expressed their grief. They demanded capital punishment to the killers of Rajib and the war criminals.