Spellers show their talent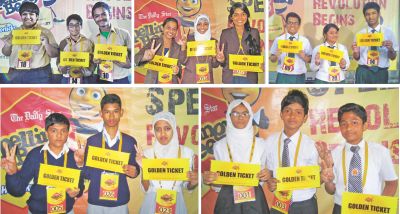 Champs21 teams of The Daily Star Spelling Bee visited two schools in the capital yesterday as the School Activation Rounds of the contest is coming to an end.
The enthusiasm of the participants seems to be on a constant rise as the event progresses. SFX Green Herald International School was one of the schools visited yesterday. However, in spite of performing really well last year, it did not live up to the expectations. After three rounds and a tie-breaker, the competition ended with the top three spellers: Avoy Datta (Class 10), Samia Hoque (Class 7) and Zayed Bin Shahjahan (Class 9).
Mohammadpur Preparatory Higher Secondary School (Boys' wing) was the other school visited yesterday. The three participants who are to qualify for the divisional rounds are Navid Hossain (Class 10), Kazi Shahriar Mahmud (Class 8) and Fardin Jafrul (Class 7).
In Sylhet, three schools were visited. Tahsin Salsabil, Swagata Sangeet Datta and Sadman Sakib from Khajanchibari International School and College joined the increasing number of participants competing in the divisional rounds.
From Sylhet International School and College, the winners were Bakhtiar Rashid Akhib, Tohura Tahsin and Tahmid Ahmed while Ifrat Jahan Prova, Wakila Hussain and Nishat Karim Chowdhury qualified from Scholars' Home Sylhet.
Anyone who has not made it to the divisional round through their school can still participate through the online game at www.champs21.com. The finals of the competition are to be held in June.
Detailed information on the contest is available on www.champs21.com, the first e-learning portal of Bangladesh. Students who want to participate in the event through the online rounds can visit the website and play the Spelling Bee Game.