<i>Who to blame for this death?</i>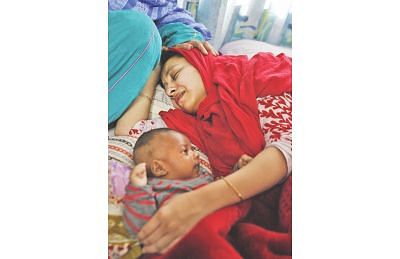 It came as the saddest news to the family that lost their beloved son to the nation's political chaos.
Russel Mahmud, an employee of a private bank, went to see a doctor on Monday, fearing that he might have a brain tumour. But nobody knew he would die on the way home, not from the disease he might have, but in an arson attack.
Russel, 30, burnt to death as miscreants set fire to a bus in the capital's Uttara on Monday night on the eve of the Jamaat-enforced countrywide hartal.
His family are numbed by the shock. Russel's father Saiful Islam could not save his son and saw him die, just before him.
"As a father, how can I bear this for the rest of my life?"
Russel had been suffering from severe headache for a few months and that day he along with his father visited a doctor.
On the way back, they boarded a bus and sat together on the rear seats.
"When the bus was set ablaze, both of us kept our hands tied and tried to get down. At one stage, other passengers pushed us so hard that we got separated," said Saiful, who also suffered burns in the arson.
"I could not see anything due to huge smoke. My body caught fire. I broke a window glass and jumped out."
Saiful then screamed for help to save his son. By the time fire service personnel came and put out the fire, Russel's fate was decided.
"Firemen pulled out a charred body and that was my son," Saiful said, bursting into tears.
He had identified his son by the belt.
The family members had been suspecting that Russel had brain tumour, said his wife Farzana Mahmud Tonni.
"The medical report was supposed to come today [yesterday] but now it is no longer needed," Tonni sighed.
The couple has a baby aged about two months.
Russel was buried at a graveyard in Nadda Para of Dhakkhin Khan yesterday afternoon.
Post and Telecommunications Minister Sahara Khatun, State Minister for Home Shamsul Haque Tuku and LGRD State Minister Jahangir Kabir Nanok, among others, visited the victim's house at Nadda Para.
Tuku assured the family that the government would punish the criminals immediately.
Uttara police filed a murder case against 94 Jamaat-Shibir and BNP men, naming former Jatiyatabadi Chhatra Dal president Azizul Bari Helal as the prime accused.
None was arrested until filing of this report around 7:30pm yesterday.
The victim's family members did not file any case.
"Political parties will try to secure political gain if we file a case. We don't want my brother to become a political tool," Russel's brother Rashed Mahmud said. He demanded punishment to the attackers.