<i>Bumper yield, good profit</i>
Brinjal farmers happy in Lalmonirhat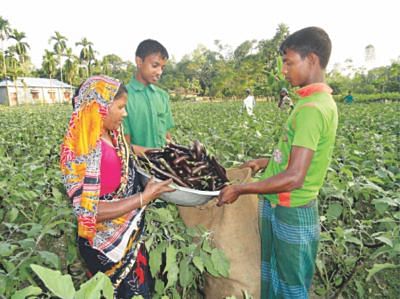 Bumper yield of brinjal and its high price in local market have brought smile on the faces of farmers in different areas of the district.
The growers said they have got good yield of the vegetable this year due to favourable weather condition. "We are also earning good profit by selling brinjal at Tk 30 per kg in the local market," they said, adding that it was priced at Tk 20 last year.
Ashraful Islam, 55, of Komlabari village in Aditmari upazila said a farmer can earn Tk 1,200 to 3,000, spending only Tk 250 to 300 for cultivating brinjal on one decimal of land.
Motiur Rahman, 56, of Fulgachh village in Lalmonirhat Sadar upazila said he cultivated brinjal on 33 decimals of land, spending Tk 6,300 and earned Tk 81,000 by selling 45 maunds of brinjal.
"I could achieve a good yield of the vegetable as my wife and three college-going sons helped me cultivate brinjal and nurture the growth of the plants.
Shamsul Alam, 50, of the same village said he cultivated brinjal on 10 decimals of land only to meet his family's requirement. But due to bumper output of the vegetable this year, he has earned Tk 17,000 by selling it.
"Next year, I will cultivate brinjal on more land. I hope to make a good profit from brinjal farming," he said with a big smile on his face.
District officials of the Agriculture Extension Department (AED) said brinjal was cultivated on 265 hectares of land in the district this year. It has brought solvency to at least 600 farmer families in the district.
Abdul Majid, deputy director of Lalmonirhat AED, said a farmer can grow four to six maunds of brinjal on a decimal of land if he nurtures the growth of plants properly.
Brinjal farmers are gaining good profit this year due to poor supply of other vegetables to the market, he added.