Navy to get sub
Says PM, commissions maiden warship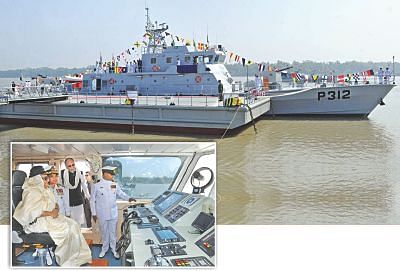 Bangladesh Navy would soon have a submarine and other modern warfare and patrol craft to safeguard the Bay of Bengal, Prime Minister Sheikh Hasina said yesterday.
"To make the navy a deterrent force, a submarine with base facilities will be added," she said at Khulna Naval Base Titumir while commissioning first Bangladeshi warship BNS Padma made here with technological assistance from China.
The rising presence of India, Myanmar and China's commercial ships in the Bay increased its economic and strategic importance, she said, which was why a strong naval force had become mandatory for protection of the sea.
A process in on to modernise the force, Hasina said. Two maritime patrol aircraft will be available by April. Also underway are construction of navy's own air base at the harbour, berths for ships, new bases, training schools and accommodations for naval officers and soldiers.
Besides, two helicopters and missiles have been procured to make BNS Bangabandhu, a frigate, fully operational.
China had built two modern large patrol craft for the navy, and the making of a fleet tanker to carry fuel was about to be completed, the PM said. Five patrol craft were built in Khulna shipyard, of which BNS Padma joined the navy yesterday.
The PM said her government bought three warships and missile-boats for the naval force in the last fiscal year. Besides, some naval ships were upgraded with ship destroyer missiles.
Special naval force SWADS has been formed to play an active role in combating terrorism in the maritime boundary.
"Inshallah, we'll be able to build a modern tri-dimensional naval force for our future generations, which will be able to face challenges within its own maritime boundary at any war time."
The government has also taken long-term plans to be implemented by 2020. It aimed at making Bangladesh Navy a more effective force to protect the country's sea resources through round-the-clock patrolling as well as resisting arms trafficking and smuggling.
Foreign trade through the sea will expand significantly as the government is going to set up a deep-sea port at Sonadia, Hasina said. Her government has already opened Chittagong and Mongla ports for neighbouring counties to enhance political, economic and diplomatic cooperation with them.
Referring to Bangladesh winning a maritime dispute with Myanmar at the international tribunal ITLOS, Hasina said the responsibility of the navy had significantly increased in ensuring security and protecting sovereignty and sea resources.
Because of the efforts made by the incumbent government, a frigate and a large patrol craft of the navy have joined the UN Mission in Lebanon for the first time, Hasina said, expressing hope that the naval force in future would be able to play a significant role in securing global maritime boundary.
Bangladesh recently signed a deal to purchase military equipment and arms from Russia through the supplier's credit of $1 billion.