Plastic goods exports to reach $1b a year
Muhith says at the launch of four-day plastic fair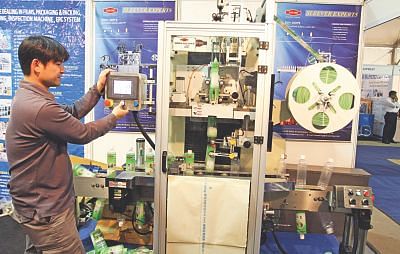 Bangladesh's plastic exports will rise 10 times to $1 billion a year in the next five years, thanks to growing demand, Finance Minister AMA Muhith said yesterday.
"Bangladesh has made its mark as a plastic goods-exporting country," said Muhith at the launch of the four-day plastic fair at Bangabandhu International Conference Centre.
The country now exports around $100 million worth of plastic products a year, the minister said, adding that the figures would increase significantly due to diversified use of plastic globally.
The per capita use of plastic goods in Bangladesh is still very low: 5kg a year, Muhith said.
On the other hand, Asean countries use 17kg, compared to around 30kg in the rest of the world, he said.
"The present consumption level of plastic [per capita] should double," said Muhith, while praising plastic's usefulness thanks to modern technology.
Industries Minister Dilip Barua said the government is seriously working to establish a dedicated industrial park.
"It [plastic industrial estate] is the demand of the time -- and the attention of the prime minister has been drawn to this end."
Barua also mentioned SME Foundation's effort to conduct a feasibility study on a training institution for this sector.
Titled 'the eighth Dhaka International Plastic Packaging and Printing Industrial Fair 2013, the fair is being organised by Bangladesh Plastic Goods Manufacturers and Exporters Association (BPGMEA) and Chan Chao International Co Ltd, an industrial exhibition arranger, to showcase plastic products.
Kazi Akram Uddin Ahmed, president of Federation of Bangladesh Chambers of Commerce and Industry, said the fair was important for the development of the plastic sector as the domestic market now accounts for just about 1 percent of the GDP.
Terming the association's demand for a training institute as a "very good proposal", Muhith suggested a public-private partnership and extended his eagerness to provide all necessary support.
BPGMEA President Md Jashim Uddin said nearly all the plastic goods for household use, which were imported before, are now being manufactured locally.
There are some 5,000 small and heavy plastic makers in Bangladesh, which employs around 12 lakh workers. Earnings from plastic exports stood at $88.69 million in fiscal 2011-2012, up 29 percent from the previous fiscal year, according to data from the Export Promotion Bureau.
The fair has some 350 stalls, where participants from 15 countries, including China, India, Pakistan, Taiwan, Korea, Malaysia, the UAE and the UK, are showcasing their wares.
This time, a number of exclusive pavilions have been set up for export, packaging, plastic and rubber foundation and toys sectors. The fair will remain open from 12 pm to 8pm daily.