Lipi's bold installation hits international art scene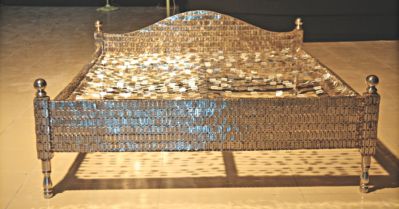 The Solomon R. Guggenheim Museum, one of the world's top museums, will present "No Country: Contemporary Art for South and Southeast Asia", the launching exhibition of the Guggenheim UBS MAP Global Art Initiative. The Global Initiative is a programme sponsored by the financial services group, UBS.
Recently Guggenheim has announced the names of the 22 artists who will be featured in this exhibition. After New York, the exhibition is expected to travel to venues in Hong Kong and Singapore. Of the 22 artists, 6 are from South Asia: 2 from Pakistan, 2 from India, 1 from Myanmar and Tayeba Begum Lipi from Bangladesh. All the artworks exhibited at the show will be part of at the permanent collection of Guggenheim.
Lipi's piece, "Love Bed", was previously exhibited at Dhaka Art Summit in 2012. The piece is made of stainless steel and razor blades. Through this bold work, Lipi wants to convey the predicaments women face in our society.
Nadia Samdani, director of Dhaka Art Summit, said, "This is a very exciting moment for us, and Dhaka Art Summit is a platform for Bangladeshi artists to be discovered. June Yap, the Guggenheim curator, came to Bangladesh a few months back and selected Lipi's work."
Lipi's artwork will also be displayed at the Samdani Art Foundation's exhibition at the upcoming 5th edition of India Art Fair (next month). Samdani Art Foundation and international auction house Christie's are also jointly organising a seminar on "Contemporary Art Scene of Bangladesh" in Delhi, during the fair.