Bahrain Labour Camp
Blaze kills 11 Bangladeshis
Poor safety condemned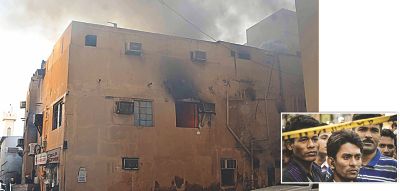 Eleven Bangladeshi workers were among the 13 killed in a fire that gutted a labour camp in Manama of Bahrain on Friday afternoon.
The other two were yet to be identified. Two more Bangladeshis were among the injured.
The roof of the three-storey building caved in, as the deadly blaze swept through the camp, situated in the crowded Mukharga neighbourhood in the Bahraini capital. It took the fire-fighters around six hours to tame the flames at the 26-room unauthorised structure.
The origin of the fire was yet to be known.
Most of the occupants of the building were Bangladeshis, living in crammed conditions.
The deceased hailed from Brahmanbaria, Chandpur, Chittagong and Noakhali, said Mehdi Hasan, counsellor and head of chancery of Bangladesh embassy in Manama.
They are Swapan Miah and his brother Saiful Islam Sabuj, sons of late Shahid Miah of Kaitala of Nabinagar in Brahmanbaria; Zaru Mia, son of Chan Mia of Khariala village of Brahmanbaria; Shahadat Hossain and his brother Titu Miah, sons of Alam of Nawpura of Kachua in Chandpur; Jasim Uddin, son of Naser Miah of Goali of Nabinagar in Brahmanbaria, Mohammed Anwar Miah, son of Abul Bashar of Gurigram of the same upazila; Nazir Ahmed, son of Sagir Ahmed of Char Khizirpur of Boalkhali upazila in Chittagong; Mahbub Alam, son of Haji Rashid Ahmed of Batua of Patia upazila of Chittagong; Jamal, son of Abdul Aziz of Maripara of the same upazila; and Md Osman Gani, son of Abdur Rahim of Kashipur in Sonaimuri upazila of Noakhali.
Zafar Ahmed Khan, secretary of the expatriates welfare and overseas employment ministry, said the bodies of the workers would be brought back home in two to three days on completion of necessary formalities.
The bodies were kept at the mortuary of King Hamad Medical Hospital in Manama. The two injured Bangladeshis were undergoing treatment at the same hospital.
The families of the victims had pegged all their hopes on the men who had gone to Bahrain to work and change the family fortunes, report our correspondents in Brahmanbaria, Chandpur and Chittagong.
Sumon Miah, brother of deceased Swapan and Saiful, at his home in Brahmanbaria said Swapan had gone to Bahrain four years ago and Saiful only last month, reports our Brahmanbaria correspondent.
Shah Alam, father of Shahadat and Titu of Chandpur, told The Daily Star that Titu went to Bahrain to earn enough money so that he could come back and have a proper livelihood here.
He said his elder son Shahadat had called him two days ago to let him know that he would be home in two months.
Meanwhile, sources said the high figure of casualties in Bahrain was attributed to the large number of people staying inside the building on Friday, the weekend, and to the windy and cold conditions outside.
They said the workers were crammed into the building that was not designed to accommodate a large number of people. Seven to 10 people lived in each room.
The unapproved building mostly had "free visa" workers from Bangladesh, Pakistan and India, said the Bahrain-based newspaper Gulf Daily News.
Sources said the fire prompted a wave of condemnations and calls to ensure better safety-compliant accommodation for foreign workers as fire incidents are frequent in Bahrain.
Reports from Bahrain said many unskilled workers from Asian countries, mostly from Bangladesh, Pakistan and India, often end up being crammed into buildings that were not designed to accommodate a large number of people.
Special compounds for migrant labourers are common across the Gulf. For years, rights groups have been pressing for better living conditions for the mostly South Asian workers.
Bahrain is host to around 5.6 lakh foreign workers.
According to local media report, Friday's blaze was Bahrain's second deadliest tragedy to strike a labour accommodation since 2006 when 16 workers were killed in a fire at the Gudhaibiya neighbourhood in Manama.
On May 27, 2012, at least 10 Bangladeshi workers died in a fire at a building in East Riffa.
On November 8, 2008, three Bangladeshi workers were killed in a fire that broke out in a two-story residential building in Jid Hafs on the outskirts of Manama.
According to the Bahrain Interior Ministry, the public prosecution has launched an investigation into the fire incident.