Cold claims 8 more
Mercury dips further; northern region worst-hit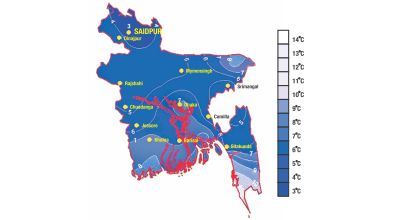 As mercury hit 45-year low yesterday with the minimum temperature recorded at 3 degrees Celsius in Saidpur, the cold snap claimed at least eight more lives.
Cold-related complications left four people dead in Lalmonirhat, one each in Jamalpur and Madaripur and two in Moulvibazar from Wednesday night till yesterday, officials say.
The death toll in the cold spell over the last one week now climbs to 90.
With Wednesday's minimum temperature of 3.2°C in Dinajpur, this winter seems threatening to break the 1968 record of all-time low -- 2.8°C in Sreemangal.
However, in the capital, the day was slightly warmer with temperature rising to 7.6°C from 7.2°C in 24 hours.
The second lowest temperature yesterday was 3.5°C in Rangpur.
According to the Met office, the severe cold spell sweeping over Rajshahi and Rangpur divisions and the regions of Tangail, Mymensingh, Sitakunda, Rangamati, Comilla, Sreemangal, Jessore and Kushtia may continue till around 6:00pm today. Elsewhere it will be moderate cold.
The Met office also forecasts at least three more mild to moderate cold waves across the country at the end of this month.
The acute fall in temperature along with dense fogs disrupted public life across the country, with children and elderly people suffering the most.
"I have never seen such a severe cold in my life, said 80-year-old Abul Hossain of Saidpur upazila in Nilphamari. "I can barely get up from bed as I don't have any warm clothes."
Talking to The Daily Star, Professor Md Rashidul Hassan, director of National Institute of Heart and Chest, said respiratory problems get worse during winter.
Homeless people who cannot afford warm clothes are the most vulnerable to cold. The normal temperature of human body hovers around 37°C, but the country is experiencing cold as low as 3°C, he said.
Prof Rashidul added in this weather people also suffer from hypothermia, a condition in which the temperature of body drops below normal, heartbeat becomes slower and blood pressure falls.
Hypothermia results in organs failure and, in some cases, death.
Fogs, Ferries, Flights
The Ferry service at Mawa-Kaorakandi route remained suspended for around 10 hours and on Daulatdia-Paturia for seven hours due to dense fogs, leading to miles-long tailbacks on both sides of the river Padma yesterday morning.
Flight operations at Shahjalal International Airport in Dhaka and Shah Amanat International Airport in Chittagong were disrupted for around four hours.
An official at the Dhaka airport said three international flights scheduled between 8:20am to 11:45am were delayed due to poor visibility.
United Airways, Regent Airways, Novo Air and Biman Bangladesh Airlines postponed their flights which were scheduled to fly from Chittagong to Dhaka between 8:00am and 10:00am.
Flight operations resumed around noon after the fog cleared, added the official.