Julian Marley brings 'good reggae' to Dhaka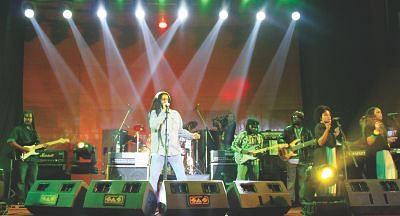 When Julian Marley was about to perform his seventh number of the night "On the Floor", he stepped down from the stage and offered the audience to join him. This proved to be the key moment of the concert, as the audience who were glued to the seats until then suddenly broke free and started to dance and sing with Julian. He might have been equally surprised to see the Bangladeshis' enthusiasm and interest in reggae music.
The 37 year old reggae star-- son of Bob Marley and Lucy Pounder-- performed some unforgettable numbers in a concert at the Hall of Fame, Bangabandhu International Conference Centre in Dhaka on January 4.
Those who have seen Bob Marley's stage performances on Youtube or in DVDs will be surprised to see Julian's striking resemblance with his father during live performances. Julian not only sings or moves like his father, he gets a line-up of around ten musicians that was an ideal number for Bob's live performances.
And when Julian entered the stage through the right wing of the stage, he came along in a rhythmic fashion that Bob Marley was known for. There were two ladies to Julian's left to produce chorus all the time. Bob used to perform with three ladies known as 'I Threes', including Julian's step mother Rita Marley.
Before Julian's arrival, his band-mates took the stage and started to create the 'reggae redeem' [similar as 'groove' for other genres such as funk or rock]. This redeem - characterised by resonating drum beats and bass notes, is the core of reggae music. The audience immediately felt that resonance, somehow subconsciously, as they danced along to the tunes till the end.
The organisers entitled the concert as "Julian Marley and the Uprising: Celebrating Bob Marley, Reggae and More". What reggae means to the Bangladeshis is simply synonymous to Bob Marley.
It is undeniable that we know reggae as a music genre through this rebel musician's songs. But many of us perhaps don't know that Bob was more than just a rebel musician. He had produced some of the best love songs ever, he sang for the fellow people belonging to the religious movement called Rastafarianism and of course he sang for the oppressed.
So, when the organisers put his name before the genre 'reggae', it fit in just right.
It was no surprise that the concert was dominated by Bob's numbers - while Julian put in several of his songs in between as well.
Julian started to sing his father's numbers with "Kaya" and continued with "Easy Skanking", "Stir It Up", "Three Little Birds", "Exodus", "Wake Up and Live" and finally ended with "Get Up, Stand Up".
Julian received a Grammy nomination for his latest album "Awake" (2009). The Grammy jury probably counted on tracks such as "Awake", "Boom Draw" or the earlier mentioned number "On the Floor" for the nomination. Including these three songs, Julian also performed "Lion in the Morning", the title track from his 1996 debut album, and "Systems" from his second album "A Time and Place" (2003).
Local band Miles appeared to be an appetizer before Julian took the stage. The six-man line up of Miles stayed on the stage for a while and performed four songs, including the Bob Marley tribute number "Waiting in Vain".
Their goal would have been to set the mood of the audience - and they did exactly that.
And Julian, who vowed to perform some good reggae numbers - to create love through celebrating his father's songs, in the end - left his audience fulfilled.
Thanks to the organisers Creinse and Macomm for creating the opportunity to listen to some good reggae numbers from an artiste who is really capable of doing so.