Jamaat men clash with cops again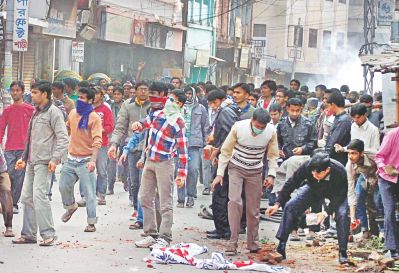 Activists of Jamaat-e-Islami and its student wing Islami Chhatra Shibir fiercely clashed with police in Dhaka and elsewhere in the country, leaving at least 30 people injured yesterday.
During the clashes, Jamaat-Shibir men charged cocktails, damaged vehicles and threw brick chips at the law enforcers, forcing them to fire rubber bullets and teargas canisters, and charge batons.
In Dhaka, at least 10 people were injured as chases and counter chases took place between the activists and police at Motijheel and Mohakhali areas in the morning.
Around 100 Shibir men brought out a procession at Motijheel around 10:30 am. As police tried to intercept the procession, the activists fled blasting several cocktails, said Anwar Hossain, deputy commissioner (DC) of Motijheel Division.
They hurled brick chips at police and vandalised at least five vehicles in the area, he added.
Police detained a Shibir activist when around 150 Jamaat-Shibir men were locked in chase and counter chase with the law enforcers near Mohakhali flyover around 10:00 am, said Ashraful Islam, officer-in-charge (OC) of Banani Police Station.
Our Rajshahi correspondent reports, at least 20 people were injured, two by rubber bullets, during a clash between the activists and police near Sonadighi intersection yesterday afternoon.
The bullet-hit were identified as Sohel Rana, 26, a corporal of Bangladesh Air Force, and his friend Biplob, 28, of Charkhota area in the city. They were admitted to Rajshahi Medical College Hospital.
Hafizur Rahman, OC of Boalia Police Station, said the clash ensued when Jamaat-Shibir men hurled brick chips at a stationed police van and blasted cocktails at Sonadighi around 2:30pm.
Over 100 activists brought out a procession in the area demanding immediate release of their arrested leaders including the war crimes suspects.
Police charged batons and fired teargas shells and rubber bullets to disperse the procession. The law enforcers picked up 18 activists from the procession.
In Cox's Bazar, Jamaat-Shibir men clashed with police on a road in front of Burmese Market yesterday. They vandalised at least five vehicles and pelted the law enforcers with brick chips during the clash, reports our Cox's Bazar correspondent.
Our Brahmanbaria correspondent reports, police yesterday arrested a local leader of Jamaat-e-Islami from Urshiura village under sadar upazila of the district in connection with torching a police vehicle on December 4 last year.
The arrestee Kazi Sirajul Islam Siraj, 38, is publicity secretary of the district unit of Jamaat.