Compensate people adversely affected by Hatirjheel project
Prime minister directs housing ministry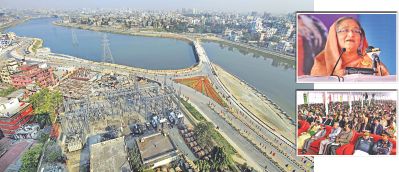 Prime Minister Sheikh Hasina yesterday instructed the housing ministry to compensate with plots and apartments the people who have been adversely affected by the Hatirjheel-Begunbari development scheme.
She gave the instruction while inaugurating the much-hyped scheme to public amid a festive atmosphere.
The scheme comprises of east-west road connectivity and peripheral service roads, an integrated drainage management, a sewer network and an aesthetically designed waterfront recreational site.
"It is a New Year gift for Dhaka dwellers," said Hasina. "It will not only offer a breathing space but also help uninterrupted east-west road connectivity and reduce traffic gridlock in the adjoining areas."
Successful completion of the 302-acre scheme stretching between Kazi Nazrul Islam Avenue and Rampura demonstrates Bangladesh's ability to perform, the PM said.
She said the devastating 1998 flood that submerged most of the capital city for more than two months had prompted her to conserve Begunbari canal and Hatirjheel (wetland) as drainage and storm water retention facilities.
A major objective of the scheme is to have a storm drainage system to prevent flooding of the capital alongside urban beautification and environment conservation.
However, completion of recreational and landscaping components, including celebration point, water court, floating walkway, viewing deck, child play equipment, water taxi terminal, lakeside landing steps, and amphitheatre is expected by June this year.
The project cost Tk 1,971 crore, with Tk 1,048 crore spent for land acquisition and the rest for construction of various structures.
Soon after the PM declared the site open to public, half a dozen colourfully decorated boats presented a welcome race in the Hatirjheel water. Moreover around a hundred ducks were released in the water while colourful balloons were released into the sky.
Two elephants were employed to welcome the PM, symbolising the royal way of welcoming and corresponding with the name, Hatirjheel, meaning wetland of elephants.
The public facilities in the project site include a 9-km east-west express road, 8-km service roads, 477-metre bridges, 9-km footpath, 10-km lakeside walkway, 260-metre viaduct, and 400-metre overpass.
The commuter facilities along with six bridges and four overpasses are expected to reduce traffic congestion in the adjoining Tejgaon, Gulshan, Modhubagh, Moghbazar, Badda and Ulan.
The seven-metre wide two-way service road is to connect Moghbazar with Rampura bypassing perennial traffic congestions in Moghbazar, Mouchak and Malibagh.
The one-way express road from Tongi diversion to Rampura on the north side and Rampura to Moghbazar rail gate on the south will have uninterrupted traffic movement.
It will be a continuous water ride between Tongi diversion road (FDC intersection) and Baridhara, once Hatirjheel is connected to Gulshan Lake, by making a passage through Gulshan-Badda link road.
Rajdhani Unnayan Kartripakkha (Rajuk), Dhaka Wasa, and the local government engineering department along with army engineers implemented different components of the scheme. A total of 500 army soldiers executed the construction works under the command of 15 officers.
The ground work of Hatirjheel scheme started in December 2007.