Feminisation of extreme poverty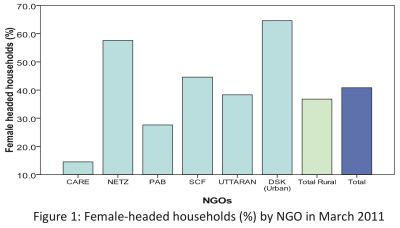 Feminisation of poverty" is a global problem. The Global Poverty Project estimates a staggering 70% of the world's poor being women. In Bangladesh, according to HIES 2010, about 28 million people are extremely poor, earning less than what is required to just meet their basic food requirements. Much of this burden falls on women.
Social practices such as early marriages, dowries, bigamy and abandonment are common among the poorest, where financial pressures often lead to the disintegration of families. Findings derived from shiree's monitoring system shed light on this situation.
This article explores the data and research findings of six major NGOs working within shiree. Quantitative data helps us identify important characteristics of extreme poverty and mechanisms which may help people escape from the trap, while qualitative data allows us to explore the context and processes underpinning changes in poverty levels and social indicators such as empowerment.
Female-headed households
Just over 40% of shiree households have a female head compared with a national average of 10% (HIES, 2005). We find the highest proportion of female-headed households in urban areas. Female heads were primarily widowed (61%) or divorced/abandoned (20%) and 18% were married.
By contrast, nearly all male heads were married (96%).
Why do households become female headed?
As female-headed households comprise such a large proportion of the sample, it is worth trying to understand what makes a household female-headed. Shiree research shows that female-headed households are rarely the result of 'bad luck' such as a random event caused by a death or by marriage partners who can't get along.
Female-headed households are most often created by processes related to social gender norms, women's entitlements and responsibilities, economics (below-subsistence pay of those in the labour class) and the dynamics of extreme poverty itself.
There are a number of reasons why widowhood is so high (61%) among the extreme poor. These include the erosion of men's physical strength resulting from sub-subsistence food intake combined with hard manual labour which consumes more calories; related susceptibility to chronic illness; and high number of work related accidents in agriculture, construction and rickshaw pulling.
Often extreme poor families cannot afford the necessary medical treatment to manage minor injuries which then become major disabilities. With no savings, extremely poor women call on friends, relatives and patrons for support. Often the amounts offered are not enough.
Hence there is a much higher rate of death and widowhood among the extreme poor. High health costs combined with the death of an income earner can drive families into destitution.
Separation and divorce is more frequent among the extreme poor for several reasons. For the 20% who were separated or divorced, we find that many were forced to leave their husbands in order to feed themselves and their children.
Others leave or are left when their husbands take on a subsequent wife or wives. A good portion of divorcees consist of relatively young women abandoned by their husbands because their families could not meet dowry costs.
Many women separate as a way of dealing with the tension and psychological stress that arise from difficult life circumstances.
Extreme poor households have to make potentially life-threatening trade-offs on a regular basis such as whether to spend household income on medicine for a sick family member or food for the primary income earner.
Extreme poor marriages and 'silent'
female-headedness
Female-headedness also happens silently within marriage. For instance, in order to avoid the costs of dowry, some extremely poor parents marry their daughters at an early age to men who have impaired physical or mental capacity, or are simply old.
This may account for the 18% of female headed households who are married.
Second, there are many women who are married to physically fit husbands who secretly drink alcohol, smoke ganja, or gamble to excess and their earnings are consumed by those activities. Such women and their children can be destitute within marriage and these women are more likely to suffer domestic abuse.
Consequences of female-headedness for extreme poverty
Female headedness can lead to extreme poverty as women are forced to become the primary breadwinner for the family and are often less likely to have benefitted from education and asset inheritance.
Often a child labourer herself, she is thrust onto the labour market where the range of culturally acceptable jobs are far fewer than for men.
We found that in most cases, an extreme poor girl or woman might not work outside the home after the first few years of marriage. It is usually after the first child when women are forced onto the labour market and even then, they perform only paid work 'in the home' doing domestic chores or agricultural processing work on the homestead of the employer.
This contrasts with Hindu and Adivasi extreme poor women who tend to work outside the home earlier and with greater regularity.
Remuneration is also significantly lower for women. Many for example work as housemaids and receive in kind payment usually in the form of food. This is then shared with other family members.
Because payment relative to men is so low, and jobs available so few, when a women becomes the key or sole breadwinner her children are withdrawn from school so that they too can work usually in domestic service or be married off.
Tackle oppressive social practices
If some of these gender discriminating social practices are not tackled, women will continue to bear the greater burden of poverty. Education is key to changing mindsets and all school curriculums and village capacity building programmes should include gendered social transformation in their agendas.
Perhaps it would also be helpful to pull religious folks into the effort, since villagers tend to trust their religious leaders. For example, the message that demanding a dowry is anti-Islamic should be disseminated. The private sector should actively engage in recruiting women and Bangla media should be very sensitive to the way they portray women. Micro-finance, which is often only available to women, has done a great deal to change the balance of social power, but we still have a long way to go!
Professor Nicholas Mascie-Taylor is a Professor of Human Population Biology and Health at Cambridge University and adviser to shiree.
Shazia Omar is Head of Advocacy at shiree, a livelihood programme funded by the governments of UK.
E-mail: shazia@shiree.org.