Fog, cold disrupt public life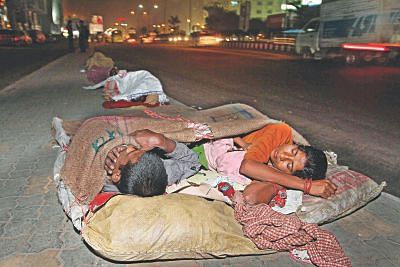 People across the country experienced bitter cold due to a slump in temperature since yesterday morning.
The freezing weather coupled with thick fog and cloudy sky increased the sufferings of poor people living under the open sky.
An official of the Met Office said a sharp contrast between day and night temperatures increased the severity of cold, though a cold spell has not yet begun to sweep across the country.
The present situation will continue for the next two or three days, he added.
In Dhaka, the highest temperature was recorded at 19.3 degrees Celsius while the lowest temperature was 15 degrees Celsius yesterday.
The lowest temperature in the country was recorded at 11.6 degrees Celsius in Ishwardi.
The Met official also said people in the capital will experience the first spell of cold wave in the last week of December while the rest of the country will feel it in the first week of January.
In Lalmonirhat, cold snap has claimed lives of two elderly men and a child in the last three days.
Mohibur Rahman, 66, of Char Shoalmari village in Kaliganj upazila died on Saturday, Asma Bewa, 62, of Polashi village of Aditmatri upazila on Sunday, and Mihaz, 4, of Lalmonirhat Sadar on Monday, reports our Lalmonirhat correspondent quoting hospital and family sources.