Jamaat leader Tasneem held
Hartal called in Rajshahi, Sylhet; Mollah's wife, 20 other female activists held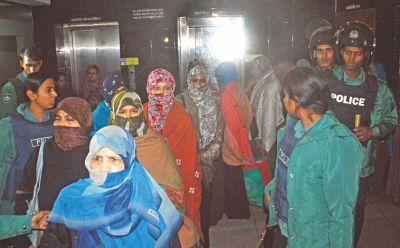 Law enforcers detained Tasneem Alam, central publicity secretary of Bangladesh Jamaat-e-Islami, at his Uttara residence in the capital yesterday for possession of anti-government leaflets and booklets.
Police also rounded up 21 female members of Jamaat and its women students' wing Islami Chhatri Sangstha from the latter's office in Moghbazar for their suspected link to "subversive activities."
The detainees include Sanowar Jahan, wife of Jamaat's Assistant Secretary General Abdul Quader Mollah, who is now facing trial on charge of committing crimes against humanity.
Protesting the detention of Tasneem, Rajshahi city unit Jamaat yesterday announced an eight-hour hartal in Rajshahi division for tomorrow.
In an email sent to local journalists, Ataur Rahman, ameer of Rajshahi city unit Jamaat, said they will enforce the shutdown from 6:00am to 2:00pm, reports our Rajshahi correspondent.
Police arrested Rajshahi University teacher Shah Hossain Ahmed Mehdi when he was in a meeting with some Jamaat leaders at a house in Rajshahi city. Two Jamaat men were detained at the meeting.
A local court last night sent the teacher to jail after police produced him before it, said SM Moniruzzaman, commissioner of Rajshahi Metropolitan Police.
Contacted, officer-in-charge of Uttara Police Station (West) Khandaker Rejaul Hasan said the seized leaflets and booklets are provocative and offensive.
Police were conducting drives in different areas in the capital along with detained Jamaat leader Tasneem Alam, he added.
Meanwhile, at least 25 people including seven policemen were injured when Jamaat-Shibir men fought pitched battles with law enforcers in Shibganj and Kadamtoli in Sylhet city yesterday afternoon during their processions in support of tomorrow's half-day (6:00am to 2:00pm) hartal in Sylhet division, adds our Sylhet correspondent.
Jamaat announced the shutdown demanding release of its acting secretary general Shafiqur Rahman. He was arrested on Thursday at his Dhanmondi residence in the capital in a case filed under the anti-terrorism act. The following day, a Dhaka court placed him on four-day remand.
Regarding the detention of 21 female leaders of Jamaat and Chhatri Sangstha, police said Sanowar Jahan is a central working committee member of Jamaat, while the rest are students of different educational institutions in the city.
Acting on a tip off, law enforcers raided the Chhatri Sangstha office and recovered a huge number of 'Jihadi' books and leaflets, said Shible Noman, assistant commissioner (Ramna) of Dhaka Metropolitan Police.
In a release yesterday, Jamaat acting ameer Moqbul Ahmed condemned the detention of Tasneem Alam.
A few months ago, Tasneem was arrested on charge of an arson attack on a bus, but he came out of jail on bail.
Shamsunnahar Nizami, secretary of Islami Chhatri Sangstha, in another statement, blasted the government for detaining its female leaders and activists and demanded their immediate release.