Kerry to succeed Hillary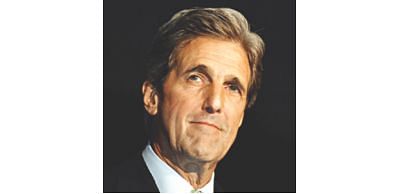 President Barack Obama has chosen Senator John Kerry to succeed Hillary Clinton as US secretary of state, news networks CNN and ABC reported Saturday.
CNN cited a Democratic source who had spoken to Kerry, while ABC mentioned unnamed sources. Asked for comment by AFP, the White House did not immediately confirm the reports, but Kerry is seen as a frontrunner for the role.
The defeated 2004 Democratic presidential candidate, Kerry is currently head of the powerful Senate Foreign Relations committee.
On Thursday, Obama's ambassador to the United Nations, Susan Rice, withdrew her name from consideration for the secretary of state post, effectively elevating Kerry to the prohibitive favorite.
Rice had been a hot favorite to succeed Hillary Clinton as the top US diplomat in the president's second term beginning next year.
Hillary said she will not run for another term for the top post.
Rice had come under fire over controversial statements about the deadly September 11 attack on a US mission in Libya which killed four Americans including the ambassador, and some Republican lawmakers had vowed to block her path to becoming top diplomat.
However, lawmakers on both sides of the political divide agreed that her departure opened the door for Kerry.
Kerry is a known commodity. He has served on the Foreign Relations Committee for some three decades, ran for president, and is well-traveled in global hot spots like the Middle East, where the United States must tread carefully.
"Even if we don't agree with Senator Kerry on some of the domestic issues, we think that he has handled foreign relations as chairman pretty good," said Senator Chuck Grassley, a Republican from Iowa.
With Rice out of the picture, he said "I think we'll be able to approve a secretary of state faster," particularly if Kerry, 69, gets the nod.
"I think he'd have an easy confirmation."
NBC News, which first reported Rice's withdrawal, quoted an official close to the nominations process, who said Kerry was virtually assured the State job.
"There were two people on the list," the person told NBC. "Two minus one is one."