Terror strikes roads
2 killed, 290 injured as BNP-led blockaders clash with cops, AL men; 50 vehicles burnt, 150 vandalised; protest today, hartal tomorrow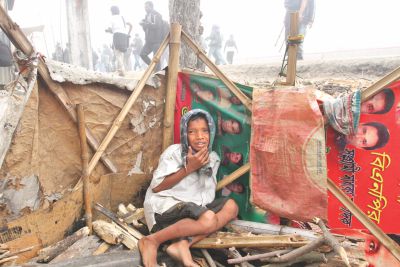 Even before the sun broke through the winter fog, thousands of BNP and Jamaat activists took absolute control of Dhaka's entry points yesterday and went on the rampage, bashing and torching vehicles, and sending terror down the spine of city dwellers.
At least two people were killed during the violence. A Jamaat activist died in Sirajganj town during a clash with Awami League activists. In Dhaka's Sutrapur, a tailor died in the beating by Chhatra League activists who mistook him for a blockader.
The opposition has called for a countrywide dawn-to-dusk hartal tomorrow and demonstrations today protesting what they said government sabotage of their blockade programme.
The BNP activists emboldened by their Jamaat and Shibir allies, overran a few ruling Awami League activists who tried feebly to resist the blockaders. The Awami League activists had firearms with them, but in most cases they tuck their tails and ran away. The law enforcement agencies mostly remained silent spectators, as if in a truce with the rampaging activists.
Later, the Awami League activists made a comeback with the protection of police and chased and beat up the blockaders. In some areas, opposition activists engaged in clashes with police and ruling party men.
In one terror strike, the blockaders threw a Molotov cocktail from an under-construction building on a police patrol car on Panthapath in the capital. The car went up in flames and three policemen were injured.
The city took a deserted look and hardly any vehicles plied the streets as the blockade turned into something tougher than hartal.
Some of the violent incidents had the telltale signs of the recent Shibir attacks. The blockaders came out of alleys very early in the morning, vandalised and torched vehicles in their blitzkrieg attacks and then vanished. Vehicles parked in front of hospitals and even inside residences were not spared in some cases.
Clashes between blockaders, ruling party men and law enforcers took place in and around the capital and other places in the country. More than 70 homemade bombs went off, around 50 vehicles were torched, including five police vehicles, and over 150 others were vandalised yesterday.
At least 250 people and 40 policemen were injured.
There were reports of clashes in Sirajganj, Narayanganj, Chittagong, Rajshahi, Khulna, Lalmonirhat and Laxmipur.
BNP acting secretary general Mirza Fakhrul Islam, however, termed the violence a government sabotage.
At a press conference at party's central office at Nayapaltan, he claimed, "Four people were killed, 665 were arrested and over 600 were injured across the country."
However, Assistant Commissioner of Dhaka Metropolitan Police Gazi Rabiul Islam said 162 people were arrested in connection with the violence.
BNP's national standing committee and the 18-party alliance last night sat at BNP Chairperson Khaleda Zia's Gulshan office to decide their next course of action.
Fakhrul disclosed their decision on the hartal after the meeting and said it was called to protest the government's effort to obstruct yesterday's blockade.
He said they would stage demonstrations today as well.
The BNP-led 18-party alliance on November 29 called the blockade from 6:00am to 2:00pm yesterday for detaching the capital form the rest of the country to press home their demands. Their demands include restoration of the caretaker government system to oversee the next parliamentary elections.
PUBLIC SUFFERING
Yesterday, unable to avail any transport, many walked long distances in the capital to get to work. Hundreds were seen waiting at Bangla Motor, Karwan Bazar, Farmgate, Gulshan, Banani and Mohakhali. Rickshaws were seen dominating the city streets.
People in groups were also seen on rickshaw-vans in their desperation to get to work.
"I waited for a bus at New Market to go to Gulshan for two hours. Finding nothing I hired a rickshaw to get to Farmgate where I waited again for an hour. But I have not got anything yet," said office employee Masum around 9:00am.
Many city dwellers questioned as to why they had been made hostage to a disagreement between the ruling and opposition parties.
"We want to get out of this. We want to move freely. We want them [AL, BNP] not to hamper our lives," said an agitated elderly man who had been waiting for transport at Farmgate around 9:00am.
Most schools remained closed in the capital but some were open as annual exams were ongoing. Shopping malls and most shops on streets were closed during the eight-hour-long blockade.
INCIDENTS IN CITY
The worst violence was at Gabtoli in the capital while there were clashes in Panthapath, Rampura, Mirpur, Mohakhali, Old Dhaka, and Jurain and Postagola area of Jatrabari.
The entire Gabtoli area turned into a battlefield for five hours. The marauding blockaders, armed with firearms, knives, machetes and sticks also fired shots in the air to create panic.
Several people, including BNP leader Nazim Uddin Alam, sustained injuries during the clash.
Police fired 15 to 20 canisters of teargas and several rubber bullets to disperse the blockaders and ruling party men.
A number of homemade bombs also went off during the clashes.
The clashes ensued around 6:00am when opposition workers put barricades on the Gabtoli main road by setting fire to tyres and ruling party activists showed up in procession with anti-blockade slogans and swooped on them.
At one stage, the blockaders retreated to Amin Bazar Bridge. Police along with a group of ruling party activists attacked them near the bridge around 11:00am.
Three policemen sustained burn injuries in a hit-and-run attack in the early hours on Panthapath. The blockaders hurled a Molotov cocktail on their police patrol car near Panthapath and Green Road intersection.
At Mirpur Kazipara, sporadic clashes took place between police and the activists of Jamaat-Shibir, pro-BNP student body Chhatra Dal and BNP youth wing Jubo Dal for nearly 30 minutes from 6:00am.
The blockaders set off homemade bombs prompting police to fire rubber bullets, said Abdul Latif, officer-in-charge of Kafrul Police Station.
A number of people were injured in the incident and several were picked up from the spot by police.
Hundreds of Jamaat-e-Islami and Islami Chhatra Shibir men thronged the BNP central office premises at Naya Paltan early yesterday. BNP activists were rather late in arriving at their central office but eventually they brought out processions in the area.
A few thousand blockaders were on the street until 2:00pm.
A large number of law enforcers, including Rab, were present. Opposition workers in groups picketed on different streets.
No untoward incident happened until 1:30pm, when four homemade bombs went off near a procession led by BNP leader Mirza Abbas as it was passing Fakirerpool intersection. Four more exploded around 2:10pm.
The blockaders torched a taxi in Mohakhali around 6:30am yesterday.
Hours later, around 300 BNP and Jamaat-Shibir men brought out a procession and staged a sit-in near Rawa Club.
Police cordoned off the three-hour-long sit-in.
Surrounded by police, the blockaders around 11:00am marched towards Mohakhali intersection. Vehicular movement on the thoroughfare came to a complete halt for around half an hour.
Police lobbed at least five teargas canisters to disperse the gathering while dozens of pro-Awami League men were also seen chasing the blockaders.
Officer-in-Charge Bhuiyan Mahbub Hasan of Banani Police Station said at least 17 people were arrested and two policemen were hurt.
Picketers exploded a homemade bomb at Tibet intersection in Tejgaon Industrial Area around 5:30am, said witnesses. At least seven pickets were arrested in this connection, said Faruk Ahmed, officer-in-charge of Tejgaon Industrial Area Police Station.
A youth died after being run over by a double-decker bus near Shahjalal International Airport around 10:15am yesterday.
Officer-in-Charge Shahbuddin Saleh Ahmed Chowdhury of Airport Police Station claimed that the death had no connection with yesterday's blockade but BNP claimed that the deceased, Mongol Pramanik was their party activist.
The blockaders torched a minibus there around 1:00am and a BRTC bus around 5:30am, said fire service sources.
Meanwhile, pro-Awami league student body Chhatra League activists armed with sticks and sharp weapons attacked pro-BNP lawyers when they brought out a procession on the court premises in Old Dhaka around 9:00am.
Shakhawat Ullah Khan Anu, Eklas Uddin Bhuiyan, Syeda Shahina Akhter Laily, Abu Zafar Manik and Abdul Khaleque Milon were injured among others.
They were taken to the National Medical College Hospital and later moved to Islami Bank Hospital.
Pro-Awami League lawyers also brought out a procession on the court premises, protesting the blockade.
Meanwhile, a group of 50 people smashed the windscreens of at least 30 trucks parked at Alibahar of Postagola.
The blockaders set fire to a bus parked in front of Sonny Cinema Hall at Mirpur-1 around 4:30am when the driver, helper and conductor of the bus were sleeping inside it.
The trio, however, managed to escape the burning bus.
Yards away another bus was torched around 6:30am.
The blockade supporters attacked Madina Tank office owned by Awami League leader Hazi Selim on Central Road and vandalised four vehicles inside its compound.
The group also vandalised eight more vehicles on Green Road around 7:30am, creating panic in the area. Later, a few Chhatra league men chased the attackers away.
The blockaders vandalised the windowpanes of LabAid Hospital in Dhanmondi, said Imran Chowdhury, director of the hospital.
In Sirajganj, Jamaat activist Wares Ali, 60, died at Enayetpur. He was injured during a clash between 18-party activists and pro-government activists. He died on the way to hospital.
The blockaders went on the rampage at the western end of the Bangabandhu Bridge approach road and at Enayetpur and clashed with police and ruling party activists.
More than 50 vehicles were vandalised there. Some were torched. At least 50 people including policemen were injured. Ten of them sustained bullet injuries.