Compensation, salary given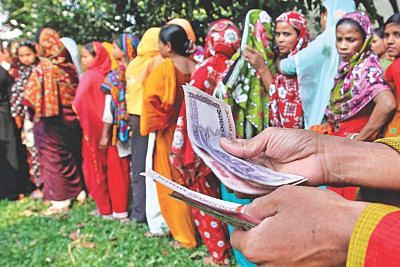 Over 1,300 workers of fire-ravaged Tazreen Fashions Ltd yesterday received salaries and compensation from company officials under the supervision of Bangladesh Garment Manufacturers and Exporters Association (BGMEA).
Salaries and compensation paid to 990 permanent workers and 328 contractual workers amounted to Tk 1.2 crore, BGMEA officials said.
"We are giving them [workers] more than their expectations," Mikail Shipar, labour secretary, told The Daily Star.
BGMEA had wanted to pay a month's salary to the workers of Tazreen in Ashulia where a devastating fire on November 24 killed 111 people. But the workers demanded pay for another three months and 13 days.
Tazreen yesterday paid salaries and compensation to the workers in three categories, complying with the rules, said Shipar.
Those who worked for three months or less got salary for the month of November with an additional Tk 1,000 in compensation.
The employees, who worked for more than three months but up to one year, received a month's salary and one months' gross pay.
The group, who served the company for at least one year and 240 working days, got two months' salary, leave payment and overtime.
They also received basic payment for the number of years they worked for. For example, those who worked for five years got five basic payments of their monthly salary, a BGMEA official explained.
Some of the injured could not come to the Industrial Relations Institute in Tongi where BGMEA made all arrangements for paying the workers off. The company officials allowed their husbands, wives or any other family member to receive the money by showing the factory identification cards of the employees.
"Some workers lost their fathers, mothers, brothers or sisters. It was a humanitarian gesture on our part," BGMEA President Shafiul Islam Mohiuddin said.
The association would give workers of Tazreen Fashions new jobs if they communicated with its members, Mohiuddin said in a tone of assurance.
Labour Minister Rajiuddin Ahmed Raju and BGMEA leaders and officials were present there at that time.
Tazreen Fashions had 1,700 employees, of whom, 1,630 were workers, according to the website of Tuba Group, which owns the factory.
Fifty people, who claimed to have worked with Tazreen, did not get money as they could not show any document as evidence.
"We will pay them after they give us any proof," Mohiuddin said.
Some people demanded compensation from the authority, claiming to have failed to trace their relatives after the fire. BGMEA officials advised them to go to Dhaka Medical College Hospital for a DNA test. A match with the DNA of any of those burnt beyond recognition would be a proof of that claim.
Those, who did not collect salaries and compensation yesterday, could anytime communicate with the BGMEA authorities to get the money, Faruque Hassan, vice-president of BGMEA, said.
He also said BGMEA would give Tk 1 lakh to each of the injured.
The survivor, who sustained severe injuries, however, complained about not getting enough support from the BGMEA authorities for their better treatment.
Monjuma Begum, who had jumped from the third floor of the eight-storey factory building and broken her leg, said she had not had enough money for treatment. She would spend the money that she received from the authority in treatment. Her husband Mozammel, a tailor who works at another garment factory beside Tazreen, came to Tongi with her as she was not being able to walk.
"We are trying our best to provide for proper medical service to the workers who were severely injured," Mohiuddin said.