<i>Clothing patterns for US marines found at fire site </i>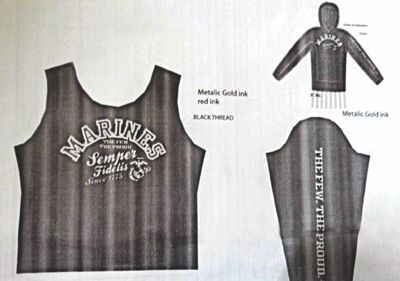 Order forms and design specs for sweatshirts and tank tops emblazoned with US Marine Corps insignia and logos have been found inside the smouldering wreckage of the Tazreen Fashions factory, activists in Bangladesh have told ABC News.
Worker rights groups in the US expressed outrage that an overseas factory with clearly identified safety problems would be selected to manufacture clothing for a licensee of the United States Marines.
"The fact that Marines logo clothing was found in the rubble of the sweatshop fire should serve as a wake-up call to the US government to put into place safeguards to ensure decent working conditions in government supply chains and among licensees," said Liana Foxvog of the International Labour Rights Forum.
As with Wal-Mart, Disney, Sears, and other well-known American clothing brands whose clothing was found on the Tazreen factory floor immediately after the blaze that killed 112 workers last week, both the US Marine Corps and the North Carolina-based company that was making items under a licensing agreement with the Marines said they did not know about or approve of any arrangement to make garments there.
"We never purposefully produced garments there. Ever," said Bob Humphreys, chairman and CEO of Delta Apparel, which is the parent company of the brand Soffe.
Humphreys said his company is "turning things upside down" to figure out why order sheets found at Tazreen identified Soffe as the company that placed the request for the Marine Corps products. He said in 2011 his company had placed an order with Tazreen's parent company, Tuba Limited. When Soffe received a shipment of 11,000 garments from Tazreen at that time, Soffe officials complained to Tuba.
"We told them no other garments could be made in that facility, it was not authorised," Humphreys said.
The Marine Corps was equally perplexed, especially because its licensing agreement with Soffe specifically spelled out that its products were supposed to have any Marine Corps logos affixed at the Soffe plants in North Carolina, and had not provided any approval to manufacture anything at Tazreen.
"Tazreen Fashions factory is not an authorised manufacturer of MJ Soffe licensed Marine Corps branded merchandise," said Jessica O'Haver, director of the Marine Corps Trademark Licensing Office.
Advocates with the Bangladesh Centre for Worker Solidarity discovered the order book in the burned out Tazreen building and photographed it. The photos include order sheets dated July 2012, designs for hooded sweatshirts that say "Semper Fi" or "US Marines," matching sweat pants, and a tank top that says "The Few. The Proud."
Humphreys speculated that Tuba, which had an order from Soffe, had moved production to Tazreen without telling his company.
He said none of the items being made in Bangladesh were part of the company's contract with the Department of Defence – those items are required by law to be made in the United States. Soffe also has licensing agreements with several branches of the military to make T-shirts, sweatshirts, and other items carrying military logos, which are sold commercially and on military bases around the world. Humphreys said most of those items are made in the US or in Latin America.
Soffe items made elsewhere in the world represent a tiny fraction of its business. "All we contracted with Tuba would be less than two tenths of one percent," he said.
Workers groups expressed dismay that Soffe and other companies have largely declined to accept responsibility for producing clothing in the Tazreen factory, even after photographs have surfaced showing order books, sketches of items, labels, and actual garments they make were inside the factory at the time of the fire.
Several, including Wal-Mart and Disney, have said orders were placed in the factory by a firm serving as a middle man, and that neither company had authorized work at Tazreen.
"We extend our deepest sympathies to the families who have lost loved ones in this horrific tragedy," said a Disney spokesperson. "Our records indicate that none of our licensees have been permitted to manufacture Disney-branded products in this facility for at least the last 12 months. We have been working collaboratively with governments, NGOs and other companies to address the issues associated with manufacturing in Bangladesh and we are committed to continuing these efforts."
ENYCE, a clothing label owned by hip-hop mogul Sean Combs acknowledged that a firm hired to produce its items had placed an order with Tazreen.
Tazreen had been the subject of a critical audit by Wal-Mart inspectors in 2010, and after the fire the manager acknowledged the nine-story building where 1,500 workers laboured had no fire exit.