A Pakistani, Victorian Novel Celebrating Women
Charles R. Larson hasn't a clue about the title of a novel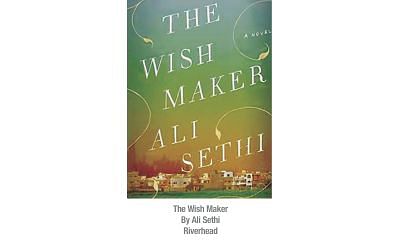 The quotation from George Eliot's Middlemarch at the beginning of Ali Sethi's novel is a dead give away: "The difficult task of knowing another soul is not for young gentlemen whose consciousness is chiefly made up of their own wishes." Eighty pages into the story, one of the main characters is reading Middlemarch. At the novel's conclusion, there's a quotation from Tolstoy: "Happy families are all alike; every unhappy family is unhappy in its own way." Granted, Tolstoy wasn't a Victorian, but his novels share numerous characteristics with his English counterparts: lengthy explorations of family dynamics, rapid social change, and so on.
These are also the stuff of Ali Sethi's sweeping debut novel, The Wish Maker. At a recent question and answer session after the author gave a reading in Bethesda, Maryland, he answered a query about Victorian novels--confessed, in fact, that he enjoyed them. More importantly, he said that many Bengali novels also have the same shape and social consciousness. Certainly these characteristics work well for him in his own novel: covering, roughly, a period in Pakistani history from Partition (1947) to 9/11. Never, however, can it be said that Sethi's narrative employs chronological order. Rather, there are numerous lengthy flashbacks (some perhaps too long) with his characters locked into historical events in his country's often troubled history.
Two threads work well for this ambitious novel: the troublesome angst of adolescence and the slow but incremental advance of women's rights in a conservative Muslim culture. For the former, Sethi, surprisingly, uses his masculine narrator, Zaki Shirazi, not so much to chronicle his own awakening sexuality as that of his female cousin, Samar Api, as well as her often more worldly girlfriends'. The issue of women's empowerment is explored in parallel fashion by using Zaki's mother, a pioneer journalist, who began her writing career after her husband's (and the narrator's) death, two months before the birth of their son.
Vividly, tellingly, the author depicts an entire generation of Pakistani youths, mostly in the 1980s and 90s, exploring promiscuity, alcohol, and drugsall forbidden, of course, by their faith. Young men and women meet secretly without the knowledge of their parents (sometimes the result of Internet arrangements), watch pornographic films, get high, and sometimes get pregnant. It all seems fairly universal until you think about these activities in conservative societies. Needless to say, these indulgences are those of the children of well-to-do families, who often shower their offspring with too much money. Thus the focus, in part, is upon adolescent rebelliongetting away with what's possible, especially out of the eyesight of their elders.
While their parents are much more traditional, Zaki's mother, Zakia, is equally serious about her own attempts to shake up society. She becomes the editor of a publication called Women's Journal, boldly confronting the status of women in Pakistan. Politically, the journal becomes one of the early supporters of Benazir Bhutto's move into politics, but then when Bhutto and her husband are accused of corruption, the journal's staff (including Zaki's mother) realize that their own ideals have been compromised. The entire narrative of The Wish Maker is steeped in political reality: the rise and fall of Pakistan's leaders, the volatility and abuse of governments and their often short-lived leaders.
Late in the story, Zaki's own situation takes center stage, but by that time the female characters have already been established as the novel's primary focus. These female characters are, in fact, the novel's imaginative center. Their lives shape most events in the story and tell us more about social change than a concentration on masculine characters would. In the final sections, Zaki has his own horizons to confront at a private boys' school, his own issues with education, and maturity, as well as his determination to continue his advanced education (as the author did) in the United States, but by that time the women in his extended family have become much more interesting.
The Wish Maker is an often lush and revealing story about the last fifty years of life in Pakistan, especially for the privileged. But don't ask me what the title means. I haven't a clue.
Charles R. Larson is Professor of Literature at American University, in Washington, D.C.