Stocks leap on positive news from ADB, SEC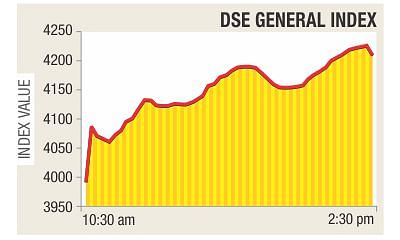 Stocks yesterday went up almost 5.5 percent, putting an end to the downward trend of the past eight sessions.
DGEN, the benchmark General Index of Dhaka Stock Exchange (DSE), gained 219 points to finish the day at 4,210 points.
Regulatory measures on share credit and news of loan sanction by a multilateral donor agency for capital market development, created positive sentiments in the market.
The Securities and Exchange Commission yesterday suspended the clauses of its earlier directives which barred investors from taking margin loans to purchase shares of a company within 30 days of its listing or changing the category.
The Asian Development Bank, in another move, announced on Wednesday that it would provide $300 million in loans to develop the country's capital market.
Coupled with the compulsion to buy due to the market being at a four-month low, the bourse experienced the highest single session gain -- of 219.07 points -- since February 7, IDLC Investment said.
"News regarding the DSE's meeting with Bangladesh Association of Banks also spurred enthusiasm among the investors," LankaBangla Securities said.
Turnover on the premier bourse went up 80 percent to Tk 336 crore, with 9.21 crore shares and mutual fund units changing hands.
Gainers outnumbered losers by a huge margin 266 to 3, with only 2 securities remaining unchanged on the DSE floor.
All the major sectors ended in the black, with banks gaining by 6.98 percent, followed by non-banking financial institutions of 6.08 percent, power 5.99 percent, pharmaceuticals 3.79 percent and telecommunications 3.54 percent.
Chittagong stocks also surged yesterday, with the Selective Categories Index gaining 430 points to close the day at 8,166 points.
A total of 1.40 crore shares and mutual fund units changed hands on the Chittagong Stock Exchange, generating a turnover of Tk 44.24 crore.
Of the traded issues on the port city bourse, 170 advanced, 8 declined and 2 remained unchanged.