Top criminal Bain held in Kolkata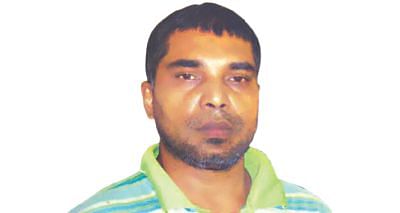 Subrata Bain, a most wanted criminal in Bangladesh, was arrested in Kolkata of West Bengal yesterday, 18 days after his escape from a jail in Nepal.
Law enforcers rounded up Subrata at Boubazar with a pistol in his possession, a top official of Special Branch of Bangladesh Police told The Daily Star last night.
Boubazar police lodged two cases against him for possessing illegal firearm and illegal immigration to India, he added.
Also known as Shuvro, the 46-year-old culprit is accused in many cases for killing, extortion and abduction in Dhaka.
The felon from Barisal converted to Islam from Christianity in 1995 and took the name Fateh Ali.
Subrata was freed from Dhaka jail on a High Court bail in 2001. As police launched a manhunt, he sneaked into India that year.
Police sources said while hiding in India, he used many names and had been to Nepal and China.
He managed a Nepali citizenship card taking the name Asif Ali Ansari as a resident of Sunsari district.
Though he had been on the run for years, many criminal gangs in Bangladesh had extorted people using his name.
Even the criminal himself threatened many people over the phone from India and Nepal to extort money from them.
His name featured in the 23 most wanted Bangladeshi criminals' list that was handed over to the Indian home department officials in 2008.
He was arrested by Kolkata police on October 13 in the same year, but walked free from jail on bail in September, 2009.
In the same month, Nepal police arrested him at Kakarvita border along India with two members of Kolkata police as the policemen had intruded into Nepal while chasing the criminal.
At night of November 8, Subrata along with a dozen of inmates escaped from a Nepal jail by digging a 12-metre tunnel.