Prothom Alo celebrates 14th anniversary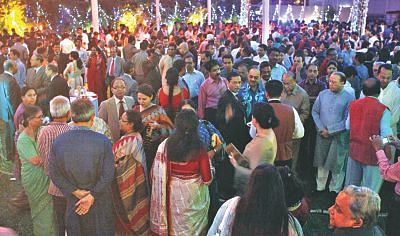 Prothom Alo, the country's leading Bangla daily, yesterday celebrated its 14th founding anniversary with the pledge to nurture impartial journalism.
The celebration evening at the capital's Pan Pacific Sonargaon Hotel was enriched by the presence of a galaxy of personalities representing all spectra of the society.
Participation of dignitaries, including Nobel Laureate Prof Muhammad Yunus, ministers, political leaders from both the ruling and opposition parties, diplomats, current and former government officials, businessmen, journalists, showbiz stars business leaders, art luminaries and civil society members, made the anniversary remarkable.
Expressing his gratitude, Prothom Alo Editor and Publisher Matiur Rahman said, "We want to move forward taking all of you with us."
According to a survey conducted in April, he said, around 53 lakh people read the newspaper every day and around 1.24 crore every week. From the last April, the circulation and sale of the paper has gone up by 1 lakh, he added.
Besides, around 18 lakh read this newspaper on its website, e-paper and mobile portal, he said, adding that Bangladeshis residing in 190 countries across the globe read Prothom Alo to know about the country.
Matiur Rahman also said, "Let us dream of a democratic, non-communal, and advancing Bangladesh." Bangladesh is moving ahead among most of South Asian nations; it is doing better in social sectors including health and education, he added.
Latifur Rahman, chairman of Prothom Alo's publishing company Media Star Ltd, said, the paper and those associated with it have faced various obstacles and at certain point of time even intimidation. But still Prothom Alo stayed on course.
"The readers have awarded the newspaper with this unique position," he said.
"When we started this journey back in 1998, few would have imagined that it would have come to this pre-eminent position at this point of time. I remember that the average circulation at that time was about 52,000 copies a day.
"We are now 5.50 lakh copies," added the chairman.
Later, eight eminent singers presented a Tagore song to grace the occasion.