Jamaat attacks cops again
19 hurt in Ctg, Dhaka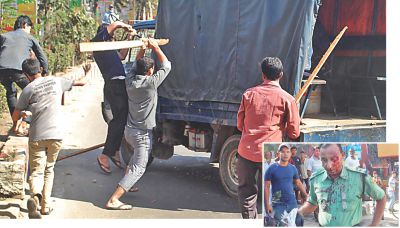 The Jamaat-e-Islami and its student wing Islami Chhatra Shibir once again swooped on law enforcers yesterday, leaving at least eight policemen and 11 others injured in Chittagong and Dhaka.
The day before, the Jamaat announced a countrywide "peaceful programme" for yesterday, protesting government "oppression" on its leaders and filing of "false" cases against them. But the party did not give any details of its plan.
Law enforcers arrested six Jamaat-Shibir activists at Jatrabari, four at Motijheel and another six at Bangshal in Dhaka as also 42 Shibir men in Chittagong as of 8:00pm yesterday.
In the port city, at least five policemen personnel, an ansar and three auto-rickshaw drivers were hurt as the activists rampaged through different places from 10:00am to 11:00am.
Of the injured, Sub-Inspector Bashir Ahmed was admitted to Police Hospital while Assistant SI Manir Hossain, constables Moslem Uddin, Tafazzal Hossain and Md Ilias and ansar Nurul Islam were admitted to Chittagong Medical College Hospital (CMCH).
Ruhul Amin, one of the auto-rickshaw drivers, was also admitted to CMCH, said Sub-Inspector Jahirul Islam, in-charge of CMCH Police Outpost.
Commuters and shopkeepers in areas such as Sholoshahar, CDA Avenue, GEC Intersection, Golpahar Intersection, Probartak Intersection, CMCH and Chawk Bazar Intersection were seen running for shelter as the Jamaat-Shibir members went wild.
Traffic from Sholoshahar Gate No 2 to Chawk Bazar Intersection came to a halt.
Around a hundred Jamaat-Shibir men brought out a procession at Sholoshahar Gate No 2 around 10:00am and marched towards GEC Intersection wielding cricket stumps and carrying brick chips, witnesses said.
Without any provocation, they started hurling brick chips at a police van that was going to Dampara for refuelling.
Three policemen, including Bashir Ahmed and ansar Nurul Islam sustained injuries, said Sairul Islam, officer-in-charge of the police station. The rioters snatched 20 bullets from Nurul.
The Jamaat-Shibir men then split into two groups. One group vandalised a BRTC bus at GEC Intersection while the other damaged at least three auto-rickshaws at Probartak.
Another police team of five to six also came under attack and were chased up to Premier University. The activists smashed a microbus of the university and three private cars parked in front of the building. They also wrecked two eateries and a showroom of a shoe company in the area.
Later, joined by another group, they started marching towards Chawk Bazar. They vandalised another auto-rickshaw at Chawk Bazar and then dispersed in the main male dormitory of Chittagong Medical College (CMC).
On information, pro-government Bangladesh Chhatra League activists of CMC rushed to the dormitory and got locked into running battle with Shibir members, said witnesses.
Police reached the spot and detained 37 Shibir activists from the hostel around 2:00pm, said Tareq Ahmed, additional deputy commissioner of Chittagong Metropolitan Police.
A total of 42 Shibir men were detained in different areas of the port city yesterday, said Prodip Kumar Das, officer-in-charge of Panchlaish Police Station.
Protesting the vandalism, around 300 students of Premier University put up barricades on the road at Probartak Intersection around 11:00am, burning tyres and chanting slogans against Jamaat-Shibir.
Later, they removed the barricades after police assured them of arresting the attackers.
Contacted, Md Ismail, president of Chittagong city unit Shibir, said the organisation had brought out a procession in Sholoshahar area but police obstructed them. The BCL activists and police together attacked them, he added.
Bangladesh Jamaat-e-Islami Chittagong city unit at a press release denied any involvement of any Jamaat-Shibir activists in the vandalism, saying they had staged a procession to protest the "mockery of a trial" of their central leaders.
The top brass of the Jamaat-e-Islami are now behind bars on charges of crimes against humanity committed during the Liberation War in 1971. Many condemn the Islamist party for its opposition to the independence of Bangladesh.
In the capital yesterday, at least 10 people, including three policemen, were seriously injured in attacks by Jamaat-Shibir on Dhaka Chittagong highway at Jatrabari yesterday afternoon.
The rioters also torched a bus and damaged several vehicles, halting traffic on the highway for around an hour.
Witnesses said around two hundred Jamaat-Shibir men showed up with a sudden procession around 5:00pm protesting the arrest of their top leaders on charges of war crimes.
Police stopped them near Fatema Naz Filling Station on the highway, sparking off the violence.
Police fired gunshots, lobbed teargas shells and charged batons on the Jamaat-Shibir men, who retaliated with brick chips, said Abul Kashem, Officer-in-Charge of Jatrabari Police Station.
UNB adds police arrested at least five Jamaat-Shibir activists who clashed with them in the town yesterday afternoon.
The district unit Jamaat-Shibir took out a procession from Noor Masjid as part of its central programme around 4:00pm. Intercepted by law enforcers, its activists pelted the cops with brick chips, locals said.