Bon Bibi Mela: An indigenous festival of the Sunderbans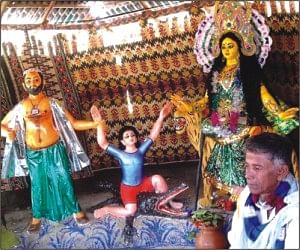 The popularity of the traditional Bon Bibi Mela is on the decline due to a lack of support from authorities. Celebrated in the villages surrounding the Sunderbans, locals of all religions have long prayed to the Bon Bibi for protection, as they believe she has powers over wild animals.
The mela is an integral part of the local culture and heritage and creates job opportunities for craftsmen and small industries. This year the mela was held at Jelekhali village in Munshiganj and at Kalinchi village in Romjannagar. Stalls at the mela had handicrafts made of wood, cane as well as pottery and other household items.
Satish Chandra Fakir who arranged the Bon Bibi Puja at Jelekhali this year said that his grandfather Jagyeshwar Fakir started the ritual over a century ago, and this was observed by other village elders. On the other hand the Kalinchi Puja Committee President Hari Pada Mondal said that the religious practice has been going on for much longer.
According to folklore two brothers who collected honey and wax from the forest were asked to sacrifice a man for their protection and prosperity by the god Dakkhin Roy. But the man, Dukhe, prayed to the Bon Bibi and was saved. Idols of Dakhkhin Roy, Gazi Dukhe and Shah Janguli are present along with that of Bon Bibi.