Arnob, Krishnakali jazz up Hay Dhaka Musicfest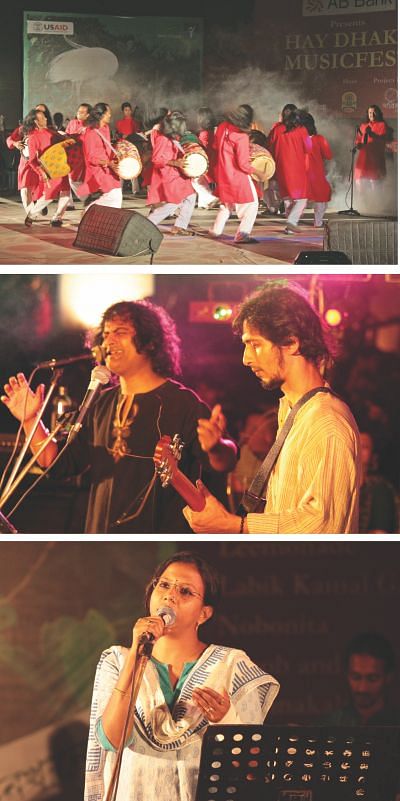 There were few better places to be on a mildly wintry November weekend evening, than at Dhanmondi's Robindro Shorobor -- ready to groove with the Hay Dhaka Musicfest, part of the Hay Festival Dhaka. The concert was sponsored by AB Bank, USAID and Nishorgo Network. As the evening sunk in, music enthusiasts gathered at the arena, curiously watching the beautiful candles and paper lamps, anticipating some good music.
The first to take the stage was an ensemble of dhuli -- in bright red attire and waving their long hair, just to warm up the atmosphere. As the beats echoed through the amphitheater, more people joined in. Next on stage was Nobonita Chowdhury, who performed a Hason Raja song and a Rabindra Sangeet, before Labik Kamal Gourab (from the band Ajob) joined her. Labik moved the crowd with his folksy vocals, singing the popular Lalon Geeti, "Khancha'r Bhitor Auchin Pakhi", and Sachin Dev Burman's "Shono Go Dokhin Hawa", among others. The next act was Leemonade, the band led by singer Leemon, who sang original numbers, and got good response from a growing crowd. In particular, the band's rendition of "Jailkhana'r Chithi" was memorable.
Cultural personality Aly Zaker then came on stage, and on behalf of Nishorgo Network, urged everyone to be "responsible tourists". He made a call to everyone to "not leave a mark" after they leave a place they've just visited -- whether it be littering, damaging natural resources, or offending the locals or the local lifestyle.
The most-anticipated artiste of the night, Arnob, was next on stage, and was greeted by a massive cheer from the crowd. He started off with the catchy number "Rasta-e", and then did a beautiful classical-tinged cover of "Tor Jonno", alongside Dhaka University teacher of music, Shoyeb, crooning Tagore's "Saawan Gaganey Ghor Ghanaghata" in Raga Megh Malhar. Arnob followed it up with a new rendition of the popular song "Mon Torey" with Pantho Kanai, who was on drums, and Buno on bass guitar. Arnob then put his folk vocal skills on display with "Lal Pahari", following it up with the more contemporary "Tomar Jonno". Shoyeb made another guest appearance in a rendition of "Tui Ki Janish Na". Arnob closed his performance with the crowd favorite "Shey Je Boshey Achhe".
Krishnakali was the last on stage, in her usual vivacious demeanour, beginning with "Bondhu Tomar", then moving on to her other popular numbers, "Boshekh", "Nacho Toh Kali", and ending on a happy note with "Jao Harao". Hay Festival guests and people from all walks of life at the show left after a fulfilling musical evening amid very thin film of mist under a starry night.