Launching of Daily Star Books today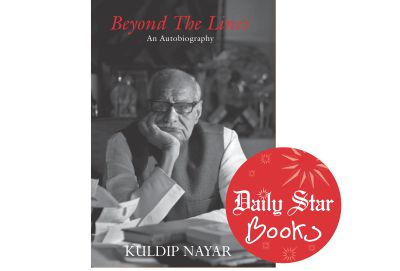 The Daily Star starts its book publishing wing, Daily Star Books, today through the launching of eminent journalist Kuldip Nayar's autobiography Beyond the Lines.
The book will be launched at Bangla Academy at 6:00pm today. Prof Rehman Sobhan, Dr Kamal Hossain, Prothom Alo Editor Matiur Rahman and Prof Mesbah Kamal will discuss the book.
In his autobiography, Nayar narrates his eyewitness accounts of the various important events of the sub-continent, including the adoption of Pakistan resolution in Lahore in 1940, the partition of the sub-continent in 1947 and the birth of Bangladesh.
The book will be available at the Hay Festival at Bangla Academy and also at book stores including Prothoma, Book Worm, Pathok Samabesh, Sagar Publishers, Gyankosh and Words n' Pages. Readers can also buy the book from The Daily Star office at a discount.
Daily Star Books will bring out quality books from authors around the world under arrangement with foreign publishing houses. The Bangladesh editions of these books will be more affordable than the foreign editions.