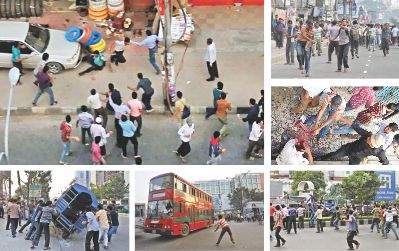 Jamaat-e-Islami and its student wing Islami Chhatra Shibir once again swooped on law enforcers yesterday, the last day of Jamaat's nine-day programme, leaving about 20 policemen injured in Dhaka, Khulna and Cox's Bazar.
They launched sudden attacks on police and vandalised around 30 vehicles in the capital's Farmgate and Karwanbazar. Jamaat-Shibir men also torched the motorbike of a traffic police sergeant and attacked roadside business establishments in the areas.
At least 30 people, including 15 policemen, were wounded in the attacks.
Police arrested 16 Jamaat-Shibir men in Dhaka and 87 others in Khulna, Joypurhat, Bagerhat, Chapainawabganj and Cox's Bazar.
Khulna City Jamaat called a dawn-to-dusk hartal for today protesting the arrest of Golam Parwar, former lawmaker and Jamaat assistant secretary general, on Sunday night in connection with violence and attacks on police.
Panic gripped Farmgate and Karwanbazar areas when several hundred Jamaat-Shibir men suddenly launched attacks on law enforcers at around 4:30pm.
Witnesses said the attackers beat up law enforcers with sticks and hurled brickbats and stones at policemen, vehicles and roadside establishments.
Police picked up 16 Jamaat-Shibir men from the spot.
In the meantime, Khulna City Jamaat demanded immediate release of Parwar and all detained activists of Jamaat and Shibir.
Earlier, Jamaat-Shibir men clashed with police on Shamsur Rahman road in the city. Four people, including two policemen, were injured in the incident.
Police detained three Shibir activists from the spot.
The clash ensued when police intercepted a procession brought out by Jamaat-Shibir men at about 1:00pm in protest of Parwar's arrest, said witnesses and police.
When Jamaat-Shibir men pelted police with brickbats, the police fired teargas canisters to bring the situation under control, said OC Shahbuddin Azad of Khulna Sadar Police Station.
Law enforcers arrested at least 65 Jamaat-Shibir activists in Dinajpur following attacks on policemen on Monday afternoon.
Jamaat-Shibir men enforced a daylong hartal in Joypurhat protesting the death of a Shibir activist. Several vehicles were set ablaze during the hartal.
In Cox's Bazar, Shibir men launched attacks on police when law enforcers intercepted their procession at around 3:00pm.
Two policemen were injured. Law enforcers arrested four Shibir men in this connection.
Rab arrested two Jamaat-Shibir cadres from Islami Bank Institute of Technology in Bogra at about 11:50am for attacking police and vandalising a police van on November 5 in the town.
In Chapainawabganj, police arrested three Jamaat-Shibir men on Monday night on charge of creating chaos.
Six Jamaat-Shibir men were arrested in Bagerhat for bringing out a procession in the town defying police orders.