Shibir strikes terror in city
Beats up cops brutally, tries to slit Jubo League leader's throat, attacks law minister's escort car, smashes vehicles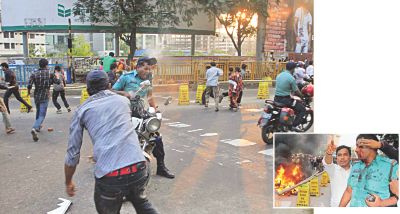 It was a planned attack by the Jamaat-Shibir men. Or so it seemed. They snatched the rifle from a policeman and beat him with its butt, injured over a dozen other law enforcers, attempted to hack a Jubo League leader and attacked law minister's private secretary's car -- all on the capital's main thoroughfares yesterday afternoon.
But that is not all. The Islamist party men torched police motorbikes, vandalised three news vans and dozens of public and private vehicles and beat up the common people indiscriminately.
These were only a few snap shots of the guerilla-style attack from a procession of the Islami Chhatra Shibir, a pro-Jamaat-e-Islami student wing, at Farmgate and Karwan Bazar.
It was not the first time that the Jamaat-Shibir men went on the rampage and wounded police personnel. They have done so almost every day since November 5 in Dhaka and elsewhere in the country.
On November 4, the Jamaat announced a nine-day agitation programme beginning from November 5 to press home its demand for the immediate release of the party's top leaders, including those facing war crimes trial. Till Monday, more than 200 policemen, at least 300 people and three journalists were injured during clashes between the police and Jamaat-Shibir men across the country.
They ended their protest programme yesterday through a targeted attack on the law enforcers in an unprecedented manner, leaving about 20 policemen injured in Dhaka, Khulna and Cox's Bazar.
Noticeably, the police role during these attacks throughout the week seemed very unusual. They either tried to escape those attacks or were just silent observers, witnesses said.
Only a few policemen went on a counter attack, mainly in self-defence, they added.
Never in the past had police played such a passive role during a political violence.
THE RAMPAGE
It was about 4:15pm. Hundreds of vehicles were stranded on both sides of Farmgate-Karwan Bazar road in a heavy traffic. All of a sudden, around 50 Shibir men started vandalising vehicles -- BRTC double-deckers, private cars, motorbikes, human haulers.
They also vandalised three news vans of ATN News and set fire to two police motorbikes at Karwan Bazar, police said.
The Jamaat-Shibir men indiscriminately beat up pedestrians, injuring at least 30 people, including 15 policemen, witnesses said, adding that at least 30 vehicles were damaged by the attackers.
Traders on both sides of the road shut their shops fearing vandalism, with people running for their lives.
As one group continued the rampage in Karwan Bazar, another group coming out of a lane opposite The Daily Star building, was trying to hack Lokman Hossain, general secretary of ward-26 Jubo League. When about 20 policemen went to Lokman's rescue, the Jamaat-Shibir men swooped on them, snatching a rifle from one of them and beating him up with it, police said.
Traffic sergeant Abdul Aziz and sub-inspectors Abdur Razzak, Md Helal, Shahidul Islam Shahid and Md Shaheen are among those injured. They were taking treatment at Dhaka Medical College Hospital and Rajarbagh Police Lines Hospital.
Lokman was admitted to a private hospital at Farmgate.
Police arrested more than 25 Shibir men for vandalism and attacking the law enforcers in the capital and 87 others in Khulna, Joypurhat, Bagerhat, Chapainawabganj and Cox's Bazar.
At Farmgate, an angry mob beat up two Shibir men -- Borhan Uddin and Ismail Hossain.
Around 4:30pm, the Shibir men attacked the police escort of the law minister at Karwan Bazar, injuring three policemen. One of them was badly hit and was taken to a hospital, Mahbub Shafique, son of the law minister, told The Daily Star.
Mahbub said he was in the car of Akshir M Chowdhury, assistant personal secretary to the minister. The Jamaat-Shibir men attacked and damaged his car, but the minister escaped unhurt.
Law Minister Shafique Ahmed said the Jamaat-Shibir activists attacked his police escort in efforts to foil the trial of crimes against humanity. He vowed the trial would go on.
Inspector General of Police Hassan Mahmood Khandakar said, "I think they [Jamaat-Shibir] have a gang of thugs for carrying out such activities and we will not spare them. They are committing criminal offences and we are taking action against them in this connection."
Contacted, Nazrul Islam Mollah, deputy commissioner of Detective Branch (north) of police, said the Jamaat-Shibir men were attacking policemen in a pre-planned way to create panic among the law enforcers.
"They are doing so to disturb law and order as part of their design to delay the ongoing trial of crimes against humanity," he said.
Law enforcers and Jubo League sources said they had information the Jamaat-Shibir would bring out a procession from Farmgate in the afternoon. Alert, police and Jubo League men were present in Farmgate area.
As police stopped a group of bikers taking them for Shibir supporters, hundreds of Shibir workers from adjacent lanes, footpaths, and foot overbridges took to the streets and went on the rampage, police said.
Jubo League activist Arif said the Shibir men beat up his party colleagues. They also tried to hack Lokman but could not do so as they were chased by the Jubo League activists.
"We were six in the team, standing under the overbridge. Suddenly, some youths hurled brickbats at us from a procession," said a policeman.
"We took shelter in a roadside shop. But constable Helal could not enter the shop. The Shibir men beat him first, snatched his rifle and hit him with the rifle," he added, preferring not to be named.
"They attacked me and knocked me down before I could realise anything. They also tried to snatch my pistol but I managed to save it," said Sub-inspector Abdur Razzak, who fired two shots at the attackers.
Meanwhile, Khulna City Jamaat yesterday called a dawn-to-dusk hartal for today protesting the Sunday's arrest of Golam Parwar, former lawmaker and Jamaat assistant secretary general, in connection with violence and attacks on police.
Earlier on the day, the Jamaat-Shibir men clashed with police on Shamsur Rahman road in the city. Four people, including two policemen, were injured in the incident. Police detained three Shibir activists from the spot.
The clash ensued when police intercepted a procession brought out by Jamaat-Shibir men around 1:00pm in protest of Parwar's arrest, police and witnesses said.
In Cox's Bazar, Shibir men launched attacks on police when law enforcers intercepted their procession around 3:00pm yesterday, reports our district correspondent.
Two policemen were injured in the attack. Law enforcers arrested four Shibir men in this connection.