Hartal in Joypurhat
Jamaat, Shibir go berserk
Clash with police, burn vehicles; stab cop before attempting to set him afire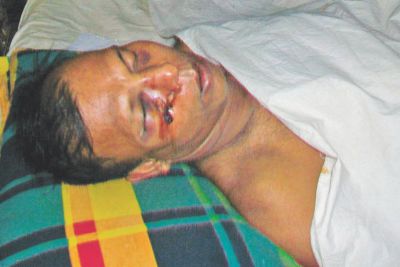 Activists of Jamaat-e-Islami and Islami Chhatra Shibir fought pitched battles with cops, torched vehicles and damaged public property during a daylong hartal in Joypurhat yesterday.
Some Shibir men tried to gouge out a constable's eyes with sharp weapons and poured kerosene on him to set him on fire at Hichmi Bazar on the Joypurhat-Khetlal road around 5:30pm.
The injured policeman, Golam Mostafa, was admitted to Shaheed Ziaur Medical College and Hospital in Bogra, reports our Dinajpur correspondent.
Meanwhile, police rounded up 75 Jamaat-Shibir activists from across the country yesterday on charges of creating anarchy and attacking law enforcers. They also held five BNP and 13 Sramik Dal workers.
Jamaat and its student body Shibir enforced the strike in Joypurhat, protesting the death of a Shibir activist on November 10. The deceased, Badiuzzaman, 22, was bullet-hit during a clash with police in the capital on November 5. He hailed from Joypurhat.
Witnesses said constable Mostafa of Khetlal Police Station was riding a motorcycle on his way to Khetlal from a Joypurhat court.
He came under attack when he pulled over after a tyre of his bike had punctured at Hichmi Bazar.
Locals rescued him from the spot and rushed him to Joypurhat Adhunik Hospital, from where he was later shifted to Bogra for better treatment.
Law enforcers said pickets torched an auto-rickshaw in front of Joypurhat Govt Girls School around 10:30am and damaged a truck before Joypurhat Palli Bidyut office in Shahartoli area around 2:00pm.
At Panchbibi, police fired five rubber bullets during a clash with Shibir men.
Police detained nine Shibir activists from different places in Joypurhat.
Yesterday was the fourth day in the last seven days when Jamaat-Shibir men clashed with law enforcers across the country over the release of their top leaders, including the nine facing trial for crimes against humanity during the 1971 Liberation War.
In the capital, police detained 23 Shibir members. Of them, 14 are residents of Jatiya Sangsad Colony in Agargaon.
Officials of the Detective Branch of police said they recovered five Molotov cocktails, anti-government leaflets and jihadi books during raids in Agargaon and Tejgaon.
Sher-e-Bangla Nagar police said the 14 detainees were tenants of the houses allocated to Parliament Secretariat's administration officer Amirul Islam, assistant secretary Abul Kalam Azad and another government employee named Anwar Hossain.
Talking to The Daily Star, DB Deputy Commissioner Monirul Islam said the detainees had admitted their involvement in Saturday's violence in the capital.
He said police would investigate why the officials rented their quarters to the Shibir men. "If it is found that they [officials] share a similar ideology with the detainees, they would be brought to book."
In Munshiganj, police arrested district Jamaat Nayeb-e-Ameer Nurul Haque Matabbar, Baitul Mal secretary Akhter Hossain and activist Abdus Sobhan on charges of involvement in subversive activities. Akhter is also an official of Islami Bank, reports our correspondent, quoting police.
In Laxmipur, law enforcers picked up 10 Shibir activists from different parts of Sadar upazila. Police sued 200 Jamaat-Shibir men for creating violence.
The Rapid Action Battalion in Feni detained four Jamaat activists while they were distributing leaflets.
Police held two Jamaat men in Sunamganj and 11 in Chapainawabganj and seven Shibir men in Jhenidah.
Kurigram police captured five BNP and two Shibir activists.
Our Patuakhali correspondent adds: Law enforcers rounded up 13 Sramik Dal and two Shibir workers from a procession in the town.
Students of Patuakhali Science and Technology University handed over two other Shibir men to police.
A group of Jubo League activists torched upazila Jamaat office in Taras of Sirajganj.
In the capital, Bangladesh Awami Swechchhasebak League held a protest rally on Bangabandhu Avenue. Addressing the rally, Awami League Joint General Secretary Mahbubul Alam Hanif said the ruling party men along with the common people will resist Jamaat-Shibir's subversive activities.