Businesses seek duty waiver from Belarus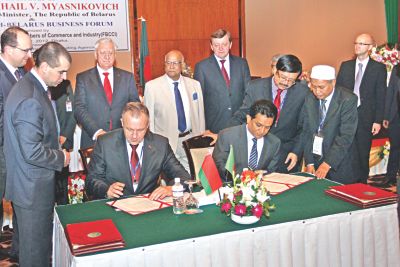 Bangladeshi businesspeople yesterday demanded zero-duty benefit on exports of all products to Belarus for an enhanced bilateral trade.
Currently, Bangladesh has to pay 20 percent to 25 percent duty for export of products to the east European country.
AK Azad, president of the Federation of Bangladesh Chambers of Commerce and Industry (FBCCI), conveyed the demand to the visiting Belarusian Prime Minister, Mikhail V Myasnikovich, during a luncheon meeting at Hotel Sonargaon.
"We call upon the Belarusian government to extend duty-free access to all our products to expand our bilateral trade," said Azad.
The FBCCI chief also urged Belarusian businesses to invest in Bangladesh as the country has skilled workforce and enjoys duty-free facility to developed countries as a least developed country.
Conversely, the Belarusian prime minister urged the Bangladesh government to remove trade barriers for the sake of expanding bilateral trade.
"Currently, Belarus has to pay 40 percent duty on export of automobile items to Bangladesh," he said.
The prime minister offered Bangladeshi businessmen the use of his country's world-recognised trade logistic centres and warehouses for expanding businesses in Europe.
He also urged Bangladesh to accept the agricultural technologies of Belarus as the country is well-equipped in the sector.
At the meeting, Finance Minister AMA Muhith urged the Belarusian government for more foreign direct investment (FDI) in the technological sectors of Bangladesh.
The bilateral trade between the two countries, at present, is in favour of Belarus.
In fiscal 2011-12, Bangladesh exported goods worth $2.42 million to Belarus, while importing goods worth $87.00 million, as per data from the FBCCI.
And in the fiscal year before that, Bangladesh exported goods worth $3.42 million and imported goods worth $93.00 million.
Later, the FBCCI and Belarusian Chamber of Commerce & Industry signed a memorandum of understanding for establishment of a Bangladesh-Belarus joint business council to increase bilateral trade.
A protocol agreement was also signed between Bangladesh's Incepta Pharmaceuticals Ltd and the Department of the Public Health of the Republic of Belarus for co-operation and production of pharmaceuticals.