'Bayern untouchable'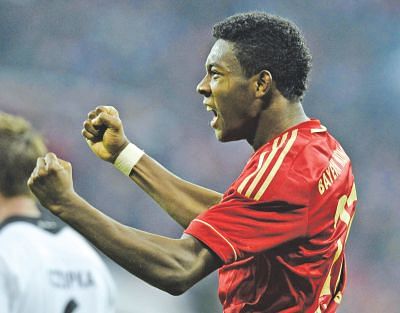 Eintracht Frankfurt coach Armin Veh has insisted Bayern Munich are in a "league of their own" after the Bundesliga leaders' 2-0 win keeps them seven-points clear at the top of the league.
Goals by France's Franck Ribery and Austria's David Alaba gave Bayern their tenth win from 11 league games and Veh says the Bavarians are currently untouchable.
"We were up against opponents who are in a league of their own," said Veh, who won the Bundesliga title with VfB Stuttgart in 2007.
"We tried to press Bayern early and not let them get going.
"We did that very well, but Bayern are smart and you have to cover a lot of ground. The second goal settled the outcome and it broke our resistance."
Ribery scored their first a minute before the break, then Bayern made sure of three points at the Allianz Arena when Alaba netted a 77th-minute penalty after a foul on Bastian Schweinsteiger in the area.
"That was a hard-earned victory against a very good team," said Bayern boss Jupp Heynckes.
"Especially in the first half, we didn't look determined enough.
"Frankfurt played good football and were full of running, it's hard to refocus after the Champions League.
"You can't always score six goals and play superb football, but we showed we're capable of the right reaction in a difficult situation.
"At the end of the day, we made the most of our experience and intelligence."
Second-placed Schalke 04 stayed in touch with Bayern after coming from behind to beat Werder Bremen 2-1 in Gelsenkirchen.
Defending champions Borussia Dortmund moved up to fourth with a 3-1 win at bottom side Augsburg.
RESULTS
Bayern Munich 2 (Ribery 44, Alaba 77-pen) Eintracht Frankfurt 0
Schalke 04 2 (Neustaedter 59, Draxler 69) Werder Bremen 1 (Hunt 16)
Freiburg 0 Hamburg 0
Augsburg 1 (Moelders 81) Borussia Dortmund 3 (Reus 8, Lewandowski 51, 70)
Fortuna Duesseldorf 1 (Kruse 4) Hoffenheim 1 (Joselu 39)