Hina Rabbani arrives today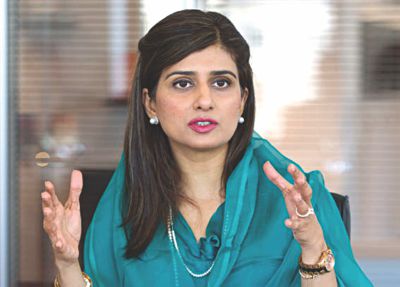 Pakistan's Foreign Minister Hina Rabbani Khar arrives in Dhaka today on a five-hour visit to invite Prime Minister Sheikh Hasina to Islamabad to attend the Developing-8 Summit on November 22.
Initially, her visit was supposed to be for 12 hours but her schedule was later modified. Hina will arrive at 10:15am by a special flight and leave for Islamabad at 3:30pm.
Hina Rabbani is scheduled to hold a meeting with Foreign Minister Dipu Moni at 11:00am at the ministry after which she will call on the prime minister around 12:00 noon.
Dipu Moni will host a lunch in Hina's honour at Ruposhi Bangla Hotel.
A statement by Pakistan's foreign ministry said "The foreign minister will personally deliver the invitation addressed by the President of Pakistan to the Prime Minister of Bangladesh, inviting the latter to participate in the forthcoming 8th session of the D-8 Summit being hosted by Pakistan."
"Pakistan attaches great value to its relationship with Bangladesh. Both countries are bound by historical links and have been working together to deepen the already existing bonds of friendship and fraternity, promoting trade links and people to people contacts," said the statement.
There will be no formal briefing after the meeting between the two foreign ministers and the media is not invited to cover the meeting, foreign ministry sources said.
Official sources said Dipu Moni and Hina will discuss bilateral issues during the talks. Dipu Moni may raise the issue of seeking apology from Pakistan for the genocide and atrocities committed by Pak army during the Liberation War.
Bangladesh has long been demanding unconditional apology from Pakistan for the crimes against humanity in 1971.