'Team more balanced'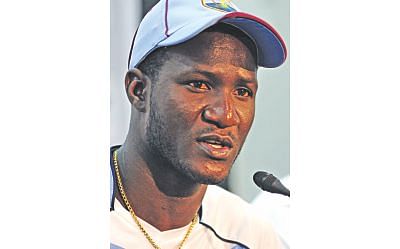 West Indies captain Darren Sammy has said that the current West Indian team is a 'more balanced' side as compared to the side that toured Bangladesh last year. In a press conference at the Bangladesh Cricket Board (BCB) headquarters in Mirpur yesterday, Sammy stated that his team could excel under any condition.
"If the pitch offers turn, then we have got good spinners. If we get a good pacey pitch, which I highly doubt, we have got a good pace attack as well. We also have an experienced batting line-up. On the whole we are quite confident," said Sammy.
The captain claimed that the team has become 'more consistent' over the last year. "We have definitely improved as a team. In the last Test series we played against New Zealand, we won the matches because of different players -- we have been improving steadily," said Sammy.
The visitors played their last Test series three months ago when they beat New Zealand by two games to nothing at home. After that the Caribbean side got busy with their Twenty20 campaign. Coach Ottis Gibson, however, was confident that the players would be able to successfully shift gears to the longer version of the game. While he admitted that playing Tests after a break will have an effect, he believed that his players had the experience to handle it.
Bangladesh on the other hand, will be entering the Test arena after almost a year. The last time they played a Test match was against Pakistan in December last year. The hosts also haven't had the best of preparations before the series. Two rounds of domestic cricket was the only exposure to the longer version of the game that the Tigers received before this series.
Despite the odds being in favour of the visitors, Sammy was cautious in his optimism. "We never take Bangladesh lightly. They have a bunch of experienced players in their side. Players like Tamim Iqbal, Shakib Al Hasan and Mushfiqur Rahim are expected to come out and play for their country," said the captain.
Furthermore the captain claimed that the conditions at the Sher-e-Bangla are different as compared to their last tour. "The outfield here is new I think. I haven't checked the pitch as yet. But most of our guys are used to playing in the hot sun, so it shouldn't be a problem."
The first Test is scheduled to begin on November 13 at the Sher-e-Bangla National Stadium, following which, the teams will travel to Khulna to play the second Test match from November 21.