Abul Kalam indicted
Trial of his 8 war crime charges to start Nov 14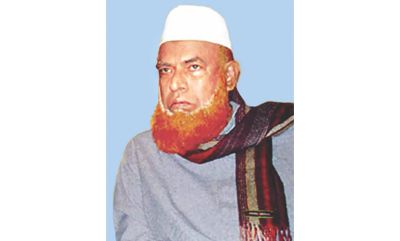 The International Crimes Tribunal-2 yesterday indicted expelled Jamaat-e-Islami member Abul Kalam Azad with eight charges of crimes against humanity, including genocide, murders, rapes committed during the Liberation War.
The charges were based on eight incidents that left at least 12 unarmed people dead and two women raped in Faridpur during the nine-month-long war.
This is the first time an international crimes tribunal in Bangladesh is holding a trial with the accused absent.
Framing the charges, the three-member tribunal headed by its Chairman Justice ATM Fazle Kabir, with members Justice Obaidul Hassan and Judge M Shahinur Islam, fixed November 14 for the opening statement of the prosecution.
The prosecution witnesses would be examined on that day too.
Before framing the charges, Justice Kabir said, "Accused Moulana Abul Kalam Azad alias Bachchu has been absconding or has concealed himself and thus he is not present before the tribunal. The trial is being held in absentia."
Azad, 65, also a former leader of Islami Chhatra Sangha, the student wing of the Jamaat-e-Islami in 1971, went into hiding around seven hours before Tribunal-2 issued an arrest warrant against him on April 3.
On October 7, the tribunal decided to hold Azad's trial in his absence as even after publication of newspaper ads asking him to appear before the tribunal he failed to show up.
The court appointed a state defence counsel to defend Azad, also known as Bachchu Razakar.
Delivering the indictment order after lunch, Justice Kabir said Azad, son of Abdus Salam Mia of Barakhardia village under Saltha Police Station of Faridpur, was born on March 5, 1947, and was a student of Rajendra College in Faridpur.
"He was a close associate of Ali Ahsan Mohammad Mojaheed, the then president of East Pakistan Islami Chhatra Sangha [also a war-crimes accused] and till the formation of the Razakar force, he actively aided the Pakistani army in committing criminal acts," said Justice Kabir.
The tribunal chairman said, "He, during the war of liberation in 1971, assisted the Pakistani occupation force initially in the capacity of Razakar and subsequently as the chief of Al-Badr force in Faridpur.
"He could speak Urdu well as he studied in a madrasa and he was a close associate of the Pakistani army and actively participated and substantially assisted them in committing atrocities on the civilians, the Hindu community and pro-liberation Bangalee people."
About his political identity, the tribunal said once Azad was a "rokan" (member) of Jamaat-e-Islami and now he is not affiliated with any political party.
After rejecting the discharge petition the state defence counsel had filed for Azad, the tribunal said, "We have perused the formal charge, statement of witnesses along with other documents submitted by the prosecution and we are of the view that there are sufficient and substantial materials before this tribunal to presume that accused Abul Kalam Azad had committed offences during the War of Liberation."
After the indictment order was delivered, the tribunal directed the defence counsel to submit a list of witnesses, if any, along with defence documents within November 14.
THE CHARGES
During the first week of June, 1971, Azad and his accomplices apprehended Ranjit Nath alias Babu Nath from Khabashpur in Faridpur town and took him to the Pakistani army camp at Faridpur Circuit House.
Ranjit was taken before Major Akram Koraishi and Ali Ahsan Mohammad Mojaheed was also there.
After a discussion, Ranjit was taken to the house of Rashid Mia at Bihari Colony and kept confined to a room there and tortured with the intent to kill.
Ranjit, somehow, managed to escape by breaking a window around midnight.
On July 26, 1971, some local Razakars apprehended Abu Yusuf Pakhi and handed him over to the Pakistani army at Faridpur Stadium.
After consulting with Pakistani army Major Koraishi, Azad and Mojaheed kept Yusuf detained and tortured him inhumanly at a camp.
"Abu Yusuf Pakhi, during his confinement there [camp at the Faridpur Stadium] for one month and 13 days, also witnessed torture and atrocities on young girls kidnapped and brought to that camp by you [Azad] and your accomplices," said the tribunal chairman.
At about 3:00pm on May 14, 1971, Azad accompanied by 10-12 armed Razakars, with the intention to commit crimes on the unarmed Hindu community, attacked the village of Kolaran of Boalmari in Faridpur.
Entering the house of Sudhangshu Mohan Roy, they dragged Sudhangshu and his son Monimoy Roy out to the road.
The charges said, "You [Azad], after having talked with Sudhangshu and Monimoy, ordered them to go back to their home and on their way back you with the rifle in your hand shot them causing death of Sudhangshu and grievous injury to his son."
On May 16, 1971, Azad, accompanied by 10-12 armed Razakars, in a planned way, captured Madhab Chandra Biswas of Purura Namapara village of Nagarkanda in Faridpur.
Dragging Madhab, who used to provide assistance to freedom fighters during the war, about 300 yards from his house, Azad shot Madhab to death.
Around 12:00noon on June 8, 1971, Azad along with 10-12 armed Razakars attacked the house of Sudhir Biswas alias Gosai Pada Biswas of Natibodia village in Boalmari of Faridpur.
They took away two females from the house and Azad along with four-five of his accomplices raped them.
On May 17, 1971, Azad accompanied by 30-35 armed Razakars launched a planned attack on the Hindu-dominated Hasamdia village of Boalmari in Faridpur.
They looted and burnt houses of Hindu civilians and shot seven Hindus to death.
The charges said, "…You [Azad] and your accomplices abducted Haripada Saha and Prabir Kumar Saha alias Puitta from there and took them to the river bank of Maindia Bazar and then you shot them dead."
Around 10:00am on May 18, 1971, Azad along with seven-eight armed Razakars attacked the house of Guru Das of Ujirpur Bazarpara of Saltha in Faridpur and abducted his daughter and tortured her keeping her locked up for seven-eight days.
She was, however, released later.
On June 3, 1971, Azad along with 10-12 armed Razakars launched a planned attack on the Hindu dominated village Fulbaria of Nagarkanda in Faridpur and looted the houses there.
"…You [Azad] and your seven-eight accomplices entering the house of Chitta Ranjan Das, dragged him out and then you, with the rifle with you, shot him dead," said the charges.