The life and times of a famous couple
Pallab Bhattacharya appreciates a writer's candour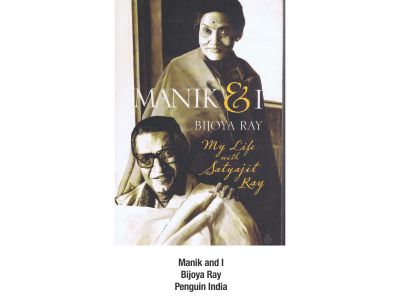 Satyajit Ray has not written his memoirs. Ray, according to his wife Bijoya Ray, had often thought of writing his autobiography but "his many commitments kept him from doing so". Who then could be a better person to shed light on various aspects of the multifaceted life of the maestro director than his life-long partner Bijoya? And readers are amply rewarded by Bijoya's book, Manik and I, a Penguin India publication. Manik is the name by which Satyajit Ray was known to his close family members and friends.
The book is a translation of Bijoya Ray's meticulous diary notes of her association with Ray before and after their marriage till the director's death in April 1992, as serialized in Bengali weekly Desh in 2003 and 2004. Penguin India has done a yeoman's service by bringing out the English translation, beautifully done by Indrani Majumdar.
It is a must for a student of Ray because it sheds light on many aspects of the director's life. There are any number of interesting details and anecdotes about the life of Ray and his relationship with Bijoya, the flowering of the romance between the two, who are also close relatives, and their eventual marriagesomething not readily accepted in society.
Manik and I not only traces Ray's development as a director and his journey to national and international fame but also gives us a glimpse of the social, national and international political, economic, cultural and intellectual atmosphere in which the director lived and the people who filled his eventful life.
What comes out through the book is Bijoya's frank assessment of Satyajit Ray as her husband, an assessment that sees her commenting on his films and not deifying him just because he was one of the greatest directors of the world and such a genius in several areas of filmmaking, writing, music and painting. Above all, the book looks at Satyajit Ray as a human being and Bijoya makes no secret of the director's getting into a relationship with another woman in 1965 and 1966, that hurt her "immensely".
Bijoya Ray does not name the woman but says it was like a "nightmare" for her. She says, "My husband was no saint. He was a man of flesh and blood. And like many other men, he got into a relationship with another woman." It was something Bijoya likes to play down, saying it was a "short-lived episode, almost like an unfortunate accident. Now, it is absurd to either remember it or imbue it with any significance."
Of particular interest to the people of Bangladesh in the book will be her reminiscences about Bangabandhu Sheikh Mujibur Rahman's return to Bangladesh in January 1972, the Liberation War of Bangladesh, the selection of Babita as a lead actress in Ray's film "Asani Sanket" and the close association two Bangladeshi photographers Amanul Haq and Sayeda Khanum had with the Ray family.
Regarding Bangabandhu, Bijoya says, "I was so full of respect for the man." She recalls that on January 2, 1972, India had declared a public holiday to mark the visit of Mujib to India on his way back to a liberated Bangladesh. "None of us had expected him to return to Bangladesh peacefully", notes Bijoya Ray. Satyajit had gone to Bangladesh in February 1973 to attend "Bhasha Divas" function and on return "we had a long discussion on Mujibur Rahman", says Bijoya.
About the Liberation War in Bangladesh, she notes at one point that "meanwhile, a civil war was on in full swing in our neighbouring country. East Pakistan, now Bangladesh, was a tiny country and I didn't know how they were going to survive it. They were definitely being helped by our country; I wondered those days for how long even that would continue".
At another place in her diary, Bijoya Ray says Indira Gandhi had come to Calcutta on December 3, 1971 and the war with Pakistan had begun, though it had not been officially declared. "The most surprising thing is that in this moment of crisis, every Western power, with the exception of Russia, has decided to help Pakistan. Even China is supporting Pakistan. I've never understood much of politics. But I was pained to at the thought of my country in such trouble".
And then comes the glorious moment of Bangladesh's Liberation War and Bijoya Ray says, "My diary entry for 16 December 1971 states: 'Today is a historical day. East Bengal has achieved its independence and Bangladesh has been born. The Indian Army is being hailed as a savour'. The next day, that is, 17 December, war came to an end. Our happiness knew no bounds."
About Amanul Haq, Bijoya Ray writes, "In 1959,...a young man called Amanul Haq came to meet us. He was a photographer who believed there could be no subject as interesting as Manik. He wanted permission to photograph him. He was well-spoken, warm and friendly. We liked him and Manik easily granted him permission...In no time at all, he had become part of the household. Manik grew very fond of him. He was a genuinely good photographer and even now never fails to visit us every time he comes to Calcutta....Only he has photographed my mother-in-law, Manik, Babu (Ray's son Sandip) and I. Babu together. Babu was very young at the time and grew very close to Amanul".
Referring to Sayeeda Khanum, Bijoya Ray says, "A few years after Amanul's arrival, yet another photographer from Bangladesh, a woman this time, came to our Lake Temple Road house. She was called Sayeeda Khanum but we know her by her nickname Badal....She still comes loaded with gifts to meet us on each visit. They are such lovely people and I'm grateful to them for not having forgotten us after Manik's death (in 1992").
Not many in Bangladesh perhaps know that Satyajit Ray had wanted to make a film out of eminent Bangladeshi writer Selina Hossain's novel "Hangar Nodi Grenade" and written a number of letters to her requesting her to keep the book for his proposed project and not give it to anyone else. Ray had liked the novel very much, as seen in one of his letters to Selina Apa. But for some reasons, Ray could never make time to come over to Dhaka and make the film, according to his letters. It was by chance that I came to know of this when this writer met Selina Apa at the Bangla Academy, where she was an Assistant Director, in Dhaka a day after Ray died and we were discussing his films. It was my sheer good luck that Selina Apa mentioned it to me and the very next day I had a look at Ray's letters to her at her Shyamali residence. I was happy to make a story out of that which was published in Indian newspapers in a big way.
There are innumerable anecdotes in the book from the life of the Ray couple and one cannot possibly mention them all in this write-up. Still, one cannot help referring to Bijoya Ray's noting how she told her husband about her "great desire to work in one of his films and often asked him to cast me in some matronly role, like that of a mother or an aunt. But he (Satyajit Ray) never agreed. He would say 'I cannot work with someone so close to me'", writes Bijoya Ray, who had already acted in some films.
We get a glimpse into Bijoya's role in the creative life of her husband when she tells her that it was she who had spotted the young boy who plays the role of Apu in Satyajit Ray's epoch-making film "Pather Panchali", a choice the director readily accepted.
About Bollywood superstar Amitabh Bachchan never featuring in any film by Ray, Bijoya Ray says Jaya Bachchan had "told me in passing that Amitabh would be willing to work with Manik if he ever decided to cast him in any of his Bengali films....He smiled a little and said 'let me get better first--only then can I think of making another film. I've thought of Amitabh often but they are such expensive actors. Our Bengal film industry doesn't have that kind of money'. Jaya immediately said, "Don't say that--it would be a great honour to work with you. I'm sure he won't demand that kind of money."
Manik and I wonderfully captures the progress of the life of the Ray couple on its huge canvas and poignantly brings out the health problems the director had faced over a long period of time, including his heart surgery in the United States, and the great anxieties and stress Bijoya had undergone in those times. Her notes in her diaries of that time are absolutely moving and are bound to make readers' eyes wet. During the last few weeks of a seriously ailing Satyajit Ray's life, the director's speech had slurred. He was finding it painful to breathe and virtually stopped responding to people. It was a tragic end to a man whom his wife describes as "forever the optimist" who "would tell me even in our darkest moments, 'Wait and see, all will be well'."
Manik and I is unputdownable and long after one has finished reading the 574-page book, one longs to return to it, again and again. Bijoya Ray deserves kudos for having gifted posterity such a book.
Pallab Bhattacharya, a journalist, writes for The Daily Star from India.