No place for insurgents
Khaleda tells Manmohan BNP won't allow use of Bangladesh land for terrorist activities against India; Manmohan pledges zero killing on border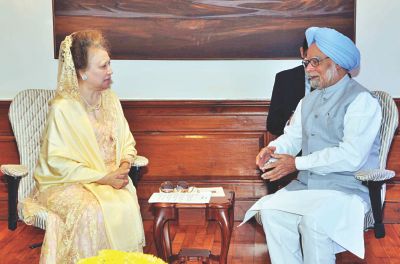 Seeking to address India's security concerns, BNP Chairperson Khaleda Zia yesterday assured Indian Prime Minister Manmohan Singh that neither she nor her party would allow terrorists and separatists to use Bangladesh territory to harm India's interests.
Manmohan, in turn, assured Bangladesh's leader of the opposition that India will put in place every mechanism to bring down the incidents of border killings to zero.
The two leaders gave the assurances at a nearly hour-long meeting at Manmohan's official residence in New Delhi. The meeting was followed by a lunch the Indian prime minister hosted in honour of the BNP chairperson.
The BNP has always been known for its anti-India stance, and it concerns New Delhi that anti-India insurgents get shelter and support in Bangladesh with this party in office, BBC Bangla adds. Analysts say Khaleda's assurance at the meeting could be an indication of change in her anti-india policy.
Responding to Khaleda's concern over border killings by BSF, Manmohan told her that he doesn't condone a single death at the border and India will put in place every possible mechanism to ensure that there is not a single death, BNP Vice Chairman Shamsher Mobin Chowdhury said at a media briefing at Taj Palace Hotel in New Delhi.
Khaleda is on a week-long India visit following an invitation from the Indian government.
The BNP chief said even a single border killing can have negative impact on India-Bangladesh relations.
Senior BJP leader LK Advani was among those who were present at the lunch hosted by the Indian prime minister, along with India's new External Affairs Minister Salman Khurshid, Home Minister Sushilkumar Shinde, and two new junior ministers from West Bengal Abu Hashem Khan Chowdhury and Deepa Dasmunshi.
According to senior BNP leader Tariqul Islam, the BNP chairperson said she wanted a "new era" to begin in Bangladesh's relations with India.
Khaleda conveyed to Manmohan that Bangladesh would never be allowed to be a happy hunting ground for terrorists, said Tariqul.
"Begum Zia assured Prime Minister Singh that she or BNP will never allow the territory of Bangladesh to be used for any activities to harm India or do anything which is against India's security," said Mobin, who was present in the meeting between the two leaders.
Expressing her desire to work with India to combat terrorism, Khaleda said there is enough comprehensive mechanism under the Saarc to combat terror and "we must make full use of it".
Manmohan thanked Khaleda for her assurances, and said he has every reason to believe her and that they have a solid foundation to work on, Mobin told the briefing.
The Indian prime minister made it clear that India believes in engaging with all parties in Bangladesh and its people, and not with just one party or individual, said Mobin.
Manmohan said a stable, moderate and democratic Bangladesh was in India's interests.
Referring to the proposed Tipaimukh project in the northeastern Indian state of Manipur, Khaleda told Manmohan that she already conveyed her concern, and also welcomed the setting up of a sub-committee under the JRC to examine the project.
She stressed that "acceptable and credible" experts should be included in the sub-committee to solve the issue, said Mobin.
Khaleda also welcomed Manmohan's assurance that India would not do anything that will harm Bangladesh's interests.
Answering a question on BNP's stand on the land boundary agreement signed during Manmohan's Dhaka visit last year to implement the 1974 Indira-Mujib accord on land boundary demarcation and exchange of enclaves, Khaleda expressed satisfaction that some progress has been made and wanted an early resolution of the issue without "displacing the people".
An early implementation of the agreement would help address trust deficit between the two nations, Khaleda told Manmohan. The Indian parliament, where Congress-led UPA lacks two-thirds majority, is yet to ratify the agreement.
On sharing of waters of Teesta and other common rivers flowing through India and Bangladesh, Khaleda said Bangladesh wanted a "fair" share of the waters because it was of question of livelihood for Bangladeshi people.
Khaleda welcomed India's decision to allow more duty-free goods from Bangladesh and hoped that a positive decision by India to remove non-tariff and para-tariff barriers would facilitate entry of more goods from Bangladesh and narrow the bilateral trade gap heavily in favour of India.
"Begum Zia recalled with gratitude India's contribution to Bangladesh's Liberation War and the fact that her late husband Ziaur Rahman had taken active part in it," said the BNP vice chairman.
She said India and Bangladesh "have a shared history and therefore we have a shared future".
Manmohan, according to Mobin, recalled Khaleda's "tremendous contribution in not only strengthening democracy in Bangladesh but also in cementing India-Bangladesh relations".
Khaleda recalled Mahatma Gandhi's role in India's independence struggle, and said "even today, he remains in the heart of every man and based on his ideals India-Bangladesh relationship should be developed".
The BNP vice chairman quoted Manmohan as saying to Khaleda, "I thank you for your warm and sincere sentiments. We have a shared history and we have a bright future".
Manmohan said if India and Bangladesh work together, they can meet the demands of the people of the two countries.
Khaleda invited Manmohan to visit Bangladesh and the Indian prime minister accepted it.
During a 15-minute conversation with Khaleda during the lunch, Advani said they were happy to have her there and look forward to working with her, according to Mobin.
Khurshid, Dasmunshi and Abu Hashem also spoke to Khaleda.
The Indian foreign minister will meet the BNP chief today at Hyderabad House and host a lunch for her. Before that, the Indian national security adviser will call on Khaleda in the morning.
There was no official word yet about when Khaleda will meet Indian President Pranab Mukherjee, who was out of Delhi yesterday.
Tariqul, Mobin and Sabiuddin Ahmed assisted Khaleda during her talks with Manmohan.
Indian National Security Adviser Shivshankar Menon, Foreign Secretary Ranjan Mathai and Indian PM's Principal Secretary Pulok Chatterjee were present at the meeting.