Bangladeshi Terror Suspect
Conflicting images emerge in US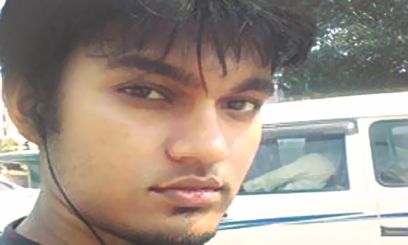 Rezwanul Ahsan Nafis
At the Missouri college where Quazi Mohammad Rezwanul Ahsan Nafis enrolled, a classmate said he often remarked that true Muslims don't believe in violence.
That image seemed startlingly at odds with the Bangladesh native's arrest in an FBI sting this week on charges of trying to blow up the Federal Reserve Bank in New York with what he thought was a 1,000-pound car bomb.
"I can't imagine being more shocked about somebody doing something like this," said Jim Dow, a 54-year-old Army veteran who rode home from class with Nafis twice a week. "I didn't just meet this kid a couple of times. We talked quite a bit. ... And this doesn't seem to be in character."
Nafis, who at the time of his arrest Wednesday was working as a busboy at a restaurant in Manhattan, was jailed without bail. His attorney has not commented on the case, but in other instances where undercover agents and sting operations were used, lawyers have argued entrapment.
Police Commissioner Raymond Kelly, whose department had a role in the arrest as a member of a joint federal-state terrorism task force, said the entrapment argument rarely prevails.
"You have to be otherwise not disposed to do a crime," Kelly said. "And if it's your intent to do a crime, and somehow there are means made available, then generally speaking, the entrapment defence does not succeed."
Meanwhile, a law enforcement official said the bomb plot investigation led to the arrest of a San Diego man on child porn charges, reports Associated Press.
Howard Willie Carter II was arraigned Thursday in federal court in San Diego on three counts of child pornography. He pleaded not guilty.
Investigators discovered child porn on Carter's computer after he communicated online with Nafis, reports Associated Press.
Carter wasn't charged in the bomb plot, but he's listed as an unnamed co-conspirator in the federal complaint against Nafis.
Nafis moved to Missouri, where he studied cybersecurity at Southeast Missouri State University. He also became vice president of the school's Muslim Student Association and began attending a mosque.
In July, as a foreign student, Nafis notified the university he was transferring to ASA College, a computer programming school in Manhattan. That's where he was enrolled when he was arrested Thursday.
Dow, his former classmate at Southeast Missouri State, said Nafis spoke admiringly of bin Laden. At the same time, "he told me he didn't really believe bin Laden was involved in the twin towers because he said bin Laden was a religious man, and a religious man wouldn't have done something like that," Dow said.
He said Nafis gave Dow a copy of the Quran and asked him to read it. But he "didn't rant or rave or say crazy stuff," Dow said.
"What really shocked me the most was he had specifically spoken to me about true Muslims not believing in violence," Dow said.
Dion Duncan of St Louis, a fellow student and member of the Muslim organization, said: "Nafis was a good kid. He showed no traces of anti-Americanism, or death to America, or anything like that. He was a trustworthy, honest kid."
"He was polite and courteous. He was helpful. All the things you would expect from a good Muslim kid. He prayed five times a day," Duncan said.
Law enforcement sources said no evidence has emerged suggesting Nafis had revealed his deadly intentions to his old college roommates, reports ABC news.
Quazi Nafis came to the US on a student visa in January and led a quiet life, sources said.
At Southeast Missouri State University, he left little impression on students, reports CBS News. Some were struck by how homesick the 21-year-old freshman was.
Bangladeshi students who came with Nafis to Missouri told the FBI last night they became alarmed when his political views slowly turned radical. He began talking about violence and videos recorded by Anwar al Awlaki -- the al Qaeda recruiter killed by a US drone in Yemen last year.
The friends described one incident in which Nafis watched an Awlaki video onboard an airplane. His shocked friends told him to shut it off.
Ken Dobbins, the university's president, says FBI agents have been on campus for weeks, and he added the school was never the target
Nafis was granted admission without producing his Bangladesh college grades. If he had, school officials would have discovered Nafis has flunked out.
"We put him in as a probationary student and he had to prove himself," Dobbins said, adding that he didn't then didn't do well, and "then he left."