Japanese cos keen, wary of uncertainty
Envoy shares with The Daily Star his country's take on investment prospects, impediments in Bangladesh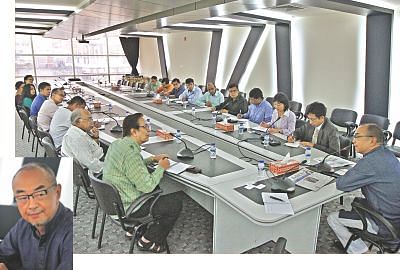 Many Japanese companies are very serious about investing in Bangladesh, but they are scared of business impediments, including political uncertainty, Japanese Ambassador Shiro Sadoshima said yesterday.
This perception about Bangladesh, coupled with the country's inadequate energy supply and infrastructure constraints, hampers Japanese investment in Bangladesh, despite the country's huge potentials to grow, said Sadoshima at a discussion hosted by The Daily Star at its office.
"Political violence scares investors. Things will be more unpredictable for violence. They [investors] will look at political environment centring the next election."
Japan identified energy shortage as one of the other major impediments to investment in Bangladesh.
Despite all barriers, the number of Japanese companies with base of operation in Bangladesh has increased significantly over the past few years, said the envoy.
"The number of Japanese companies rose to 135 so far this year from 113 in September last year. It has doubled in the last five years."
Sadoshima said big company like Honda has decided to set up an assembling plant in Bangladesh and it has a plan to set up a manufacturing plant here.
The ambassador said Nipro, a renowned medical equipment manufacturer, will invest $26 million in Bangladesh.
"Two other big food companies and a construction material company are also thinking seriously about investing here."
Japan has been Bangladesh's trusted development partner for over four decades. It was among the few countries that recognised Bangladesh soon after the 1971 Liberation War. It has maintained excellent economic development cooperation with Bangladesh.
Sadoshima, who graduated in law from the University of Tokyo in 1977, took charge as Japanese ambassador in Dhaka in October last year.
The ambassador talked on a wide range of issues, including Bangladesh's plan to build a deep-sea port, metro rail, special economic zone and the Padma bridge project.
He made a mention of Dholaikhal in Dhaka reflecting on Bangladesh's potential. "It is a very unique place. Ask them to copy a part [of a car] and they will do it in a few days."
Japan has made a huge investment in South East Asia, but rising labour costs there have given Bangladesh a golden opportunity despite its shortcomings in infrastructure, energy and transport sectors, said Sadoshima.
The ambassador said his country is coming up with investments in the sub-continent where Bangladesh lies at a very good geopolitical location that could link South Asia with South East Asia.
He sees a lot of potential in the region with Myanmar opening up to the international community after a long gap.
Sadoshima also talked of the necessity of a special economic zone for Japanese investors. He said discussions with the Bangladesh government are still at an initial stage and the Japanese government has been collecting information on the issue.
On the deep-sea port, the ambassador said Japan is interested in helping Bangladesh build the port but his country is concentrating more on energy production. He observed that Bangladesh needs more energy to sustain an economic growth over 6 percent a year.
"Bangladesh needs a lot of investment to build the port. Also, the maintenance cost is very high." He emphasised the regional use of a deep-sea port to make it viable.
On funding of the metro rail project in Dhaka, the ambassador said it is yet to be finalised but Tokyo will give its response very soon.
Referring to the alleged corruption in the Padma bridge project and the probe into the allegations, he said Japan is closely observing the developments.
Sadoshima said the funding was revived after the project's lead financier, the World Bank, cancelled it on June 29 this year following efforts from the Bangladesh government.
The Japanese ambassador, who takes interest in Bangladesh culture, finds a lot of similarities with Japanese culture.
He also talked about the last year's earthquake and tsunami that hit hard the Japanese economy.
Mahfuz Anam, editor and publisher of the English daily, moderated the discussion.