Nasheed arrested
The Maldives ex-president is accused of abusing power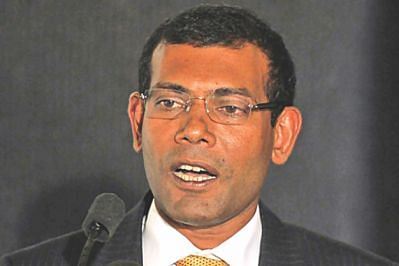 Armed Maldivian police arrested the country's first democratically elected president yesterday after he ignored court orders to stand trial for abusing his power while in office, his party said.
Police in riot gear and carrying an arrest warrant broke down a door of a house where Mohamed Nasheed was staying on the island of Fares Maathodaa in the south of the archipelago, a famous honeymoon spot for the rich and famous.
The United States, a strong backer of the Maldives, urged all sides of the political divide in the fledgling democracy to stay calm and reject the use of violence following Monday's high-profile arrest.
An embassy statement also denied any US role in the arrest, following allegations on Twitter that troops trained by US forces were responsible for the crackdown against opposition activists in the archipelago.
"In response to statements that somehow the US was involved in the detention of former President Nasheed, the embassy strongly denies that claim," the statement said.
The ex-president, who resigned in February after what he considers to be a coup, was escorted by at least a dozen officers and taken away by boat to the capital Male, according to his MDP party and photos of the arrest.
"Police are carrying out their duties," presidential spokesman Masood Imad told AFP. "Police have not used excessive force. He is being accorded due respect as a former president of the country."
On Sunday a local court ordered police to arrest Nasheed, who has twice failed to show up for trial. He faces charges of abusing his powers while in office by ordering the military to arrest a senior judge.
He has challenged the legality of the trial and says he is unable to get a fair hearing. The ex-president has refused to abide by a travel ban that restricts him to the capital island.
Nasheed, who won the first free elections in the Maldives in 2008, resigned after public protests and a mutiny by police who took over the state television broadcaster.
A Commission of National Inquiry, consisting of four respected Maldivians and a Singaporean judge appointed by the Commonwealth group of nations, rejected allegations of a coup and said the transfer of power was constitutional.
MDP spokesman Hamid Abdul Ghafoor said democracy had been "on life-support since February, but today the plug was pulled and the lights turned off".
The government rejected the MDP allegation and said Nasheed was arrested because he was in contempt of court. It said Monday's police action showed that democracy was at work in the nation of 330,000 Sunni Muslims.
"Democracy is strong and alive in the Maldives and we have shown that even a former president cannot be in contempt of court," said spokesman Imad.
If convicted, Nasheed could be jailed or banished to a remote island for three years, a punishment that could bar him from future elections.
The next polls are scheduled to take place by July next year.
Nasheed is a former Amnesty International prisoner of conscience. He was thrown in jail over a period of six years during the rule of former autocratic leader Maumoon Abdul Gayoom.