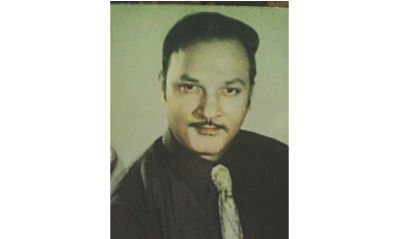 Bidit Lal Das
Renowned folk artiste-composer Bidit Lal Das passed away yesterday at Square Hospital in Dhaka. He was ailing from liver related complexities. Two accomplished singers, who knew the artiste closely, shared their memories:
Subir Nandi
If I had to say it in a few words: Bidit Lal Das had an immense heart. He had composed many songs in the 1960s. Some of those are still hummed by people. He was the son of a zamindar (landlord). He studied English Literature in Shillong. However, he was an unpretentious, uncomplicated man.
During the beginning of my working life, I was staying in Sylhet. I used to stay in a house opposite his. Every evening music connoisseurs and listeners would gather at his office; I would often attend the gathering too. All his thoughts and concerns were about music. Music was his everything. He created his own niche in folk music.
I went to China to perform with him. It was in 1977. I have fond memories of that trip; learnt much from him, in particular folk songs. He was a true artiste but always shied away from publicity and never promoted himself. I was extremely fortunate to have received his affection.
Until the '90s, he used to frequently come to Dhaka. Gradually the Dhaka trips became infrequent. However, we used to stay in touch.
I sang for one of his albums; met him last year in Sylhet. We had a long chat. An incomparable artiste, who was a major radio star in the '60s, has left us. We have lost a guardian.
Towards the end of his life, I detected a sense of disappointment in him. An artiste of his stature, who had made an invaluable contribution to our music, justifiably expected and deserved recognition from the state. That recognition, however, didn't come his way in his lifetime. I understood his frustration very well.
Once, at a hotel, where we were staying, dada (Das) decided to sleep on the floor. He didn't have to do that. He grew up in affluence; was our elder. We had to force him to sleep on the bed. It takes a man with a magnanimous heart to be able to do that.
Biswajit Roy
Bidit Lal Das was an artiste of Shadhin Bangla Betar Kendra. He was the president of Bangladesh Sangeet Sangathan Samannay Parishad's Sylhet chapter. He was known as one of the leading figures of regional songs of Sylhet and had composed several songs that went on to become classics.
His "Moriley kandish na amar daye" is still rendered fondly by millions, including me. "Ami kemon korey potro likhi" was also his creation. "Shadher lau banailo morey boiragi", composed by him, continues to intoxicate the listener to date.
Bidit Lal Das never left Sylhet permanently. He loved Sylhet with all his heart. He formed an organisation called 'Bidit Lal Das O Shohoshilpibrindo'. Several famed artistes were members of this organisation.
My last memory of dada is of him singing at a music programme for Channel 24, two months ago. I directed the programme. This was his last performance for TV. He sang 15/16 songs at a stretch on that programme.
Disappointments are many. He was in a hospital for over two weeks till his death, yet nothing was done for him. Is our cultural arena this poor? Couldn't we have done something for this brilliant artiste?